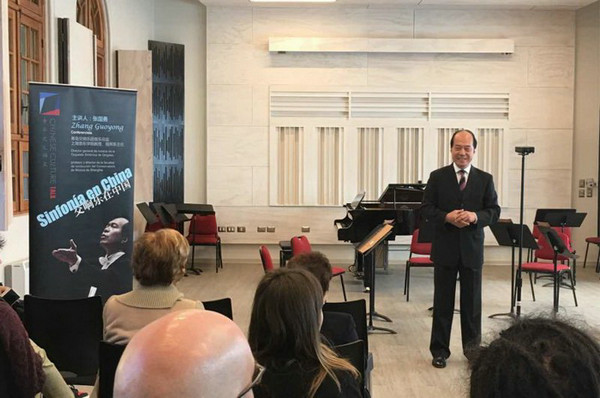 Zhang Guoyong speaks in front of an audience. [Photo/Chinaculture.org]
Zhang Guoyong, a renowned conductor, traveled to Chile to introduce the development of symphony orchestra in China. He gave a speech called Symphony in China, a recent episode of Chinese Culture Talk at Pontifical Catholic University of Chile on November 2.
Zhang works as the music director for the Qingdao Symphony Orchestra. Seventeen of his colleagues accompanied him on the trip to Chile, giving a wonderful performance.
He recounted how China's homegrown symphony orchestras survived and thrived throughout the years. He shared his take on symphony's role in China's civic life, cultural exchanges and soft power. The classical Chinese song The Butterfly Lovers was mentioned, as a sneak peek into the folk song – symphony fusion. Most attendees were teachers and students from the university's music department. Zhang encouraged them to not only work hard on their majors, but try to dabble in as many fields as possible.
Artists from the Qingdao Symphony Orchestra brought down the house. They performed several pieces, all of which were adapted from Chinese folk songs.
A professor from the music department said the speech shed new light on his teaching methods. A junior student majoring in arts management even related the performance to the fight for love and freedom.
The speech was part of the 2016 China-Latin America Cultural Exchange. Opened in March, the exchange is the biggest and most far-reaching cooperation project between the two, covering music, dance, painting and food.
Founded in 1888, Pontifical Catholic University of Chile is one of the most prestigious universities in Chile, whose graduates excel in all walks of life. The university has been working closely with Chinese universities to promote Chinese culture.