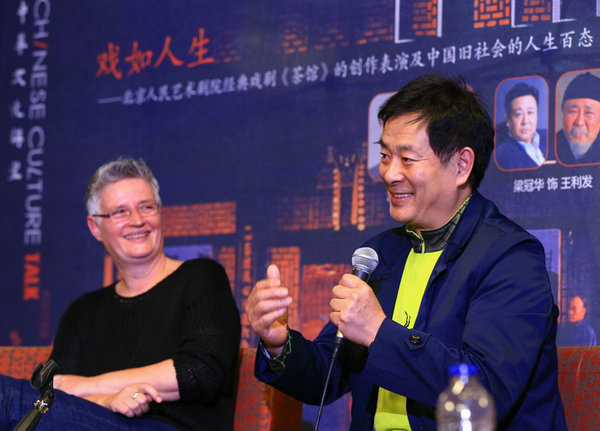 Antje Budde (left), associate professor from the Center of Drama and Pu Cunxin at the culture talk. [Photo/Chinaculture.org]
The first Chinese Culture Talk about Chinese drama, titled as "Play Is As Life",  was held at University of Toronto on November 4.
Performing artist Pu Cunxin and actors from Beijing People's Art Theater, who were on a tour of the drama Teahouse in the city, shared their understandings of traditional Chinese drama and life in ancient China.
Xu Wei, deputy-counselor of the Consulate General of China in Toronto, Han Ning, cultural consul of the Consulate, Antje Budde, associate professor from the Center of Drama, Theatre and Performance Studies of University of Toronto, Meng Yue, associate professor from the Department of East Asian Studies of the university and about a hundred students and local scholars were present.
Chaired by Budde, Meng introduced the famous Chinese writer, Lao She, author of the play Teahouse. Pu recalled how the theatre staged the play that has been performed more than 670 times.
"The play was finished by Lao She in 1956 and he died 10 years later. Half a century has passed before we came to perform it in Canada," said Pu.
2016 marks the 50th anniversary of the writer's death. Pu told audiences about Lao She's relationship with the theatre, also answering questions about drama writing and performing.
Chinese Cultural Talk aims to introduce Chinese drama classics at a group of Canadian universities during the tour.
Launched in 2015 by the Ministry of Culture, the Chinese Culture Talk is a series of high-level cultural and academic lectures. More than 40 lectures have been held in the US, France, Italy, Cambodia and Indonesia. The content varies from philosophy, religion, cultural heritage, literature and art, costume, cooking and Chinese medicine.