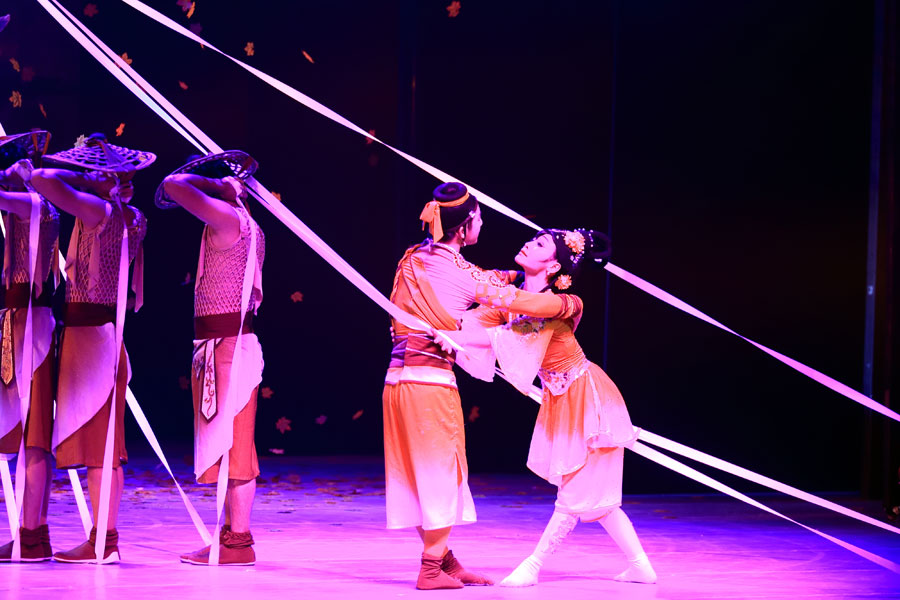 Hard To Say Goodbye. [Photo by Wang Chengmeng/chinadaily.com.cn]
The acrobatic performance Bridges, Rivers and Home premiered at the Culture and Art Center in Jiangsu province's Jianhu county, on October 13.
The Jiangsu Acrobatic Troupe created the performance after one year's planning, brainstorming and producing. It is the first acrobatic performance that draws inspiration from classical Chinese poems, including Bai Juyi, Su Shi and Liu Yuxi's signature works. The big-budget project is the brainchild of many artists and playwrights. It tells the love story of Xiao Qiao and Liu Shui of the Ming Dynasty (1368-1644).
The two fall in love at first sight. Soon, Liu Shui is off following a voyage to the Indian Ocean led by Zheng He (1405-1433). When he is gone, matchmakers approach Xiao Qiao, trying to talk her into marrying others. But Xiao is faithful to her lover and withstands the test of time. Finally, Liu comes back and they live happily ever after.