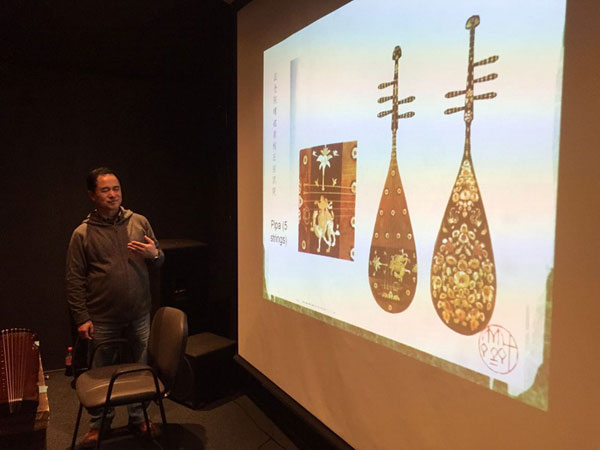 Wang Fujian introduces pipa at his first speech. [Photo/Chinaculture.org]
Sponsored by China's Ministry of Culture, the Chinese Culture Talk - held by the China Arts and Entertainment Group - made its Chilean debut this month. Famous Chinese conductor Wang Fujian delivered three same-title speeches, The Essence of Chinese Classical Music: Man-Nature Unity, at Chilean Presidential Palace's Cultural Center. Wang's speeches were also the highlight of the 2016 China-Latin America Cultural Exchange Year.
Wang Fujian was admitted into China's Central Conservatory of Music in 1977. After graduation, his music career has been on the rise. In 2005, he was Shanghai Chinese Orchestra's art director, conductor and head. At present, he is a professor from his alma mater's conducting department.
The first speech on September 3 was divided into two parts, Musical Instrument and Art. For the Musical Instrument part, Wang introduced some traditional Chinese musical instruments he brought along, including guqin, sheng, xiao and pipa. For the Art section, Wang compared Chinese classical culture with its western counterpart. He concluded that China valued harmony and nature while the western world emphasized techniques and concreteness.
To let Chileans feel the magic of traditional Chinese musical instruments, performances were given during the speech. Certain instruments were played simultaneously when they were mentioned by Wang. Chilean spectators reveled in the beautiful music and applauded after each piece.