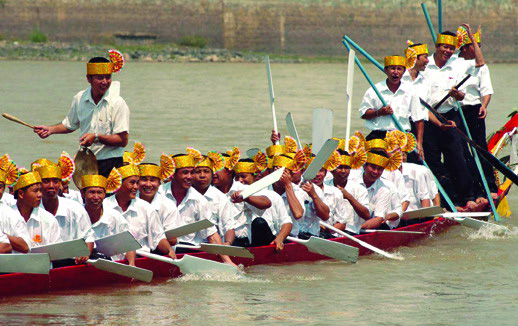 The dragon boat racing of Dai people. [Photo/China.com.cn]
China's Dragon Boat Festival, or Duanwu, is celebrated on the fifth day of the fifth month of the lunar calendar, which falls on June 9 this year. It commemorates the death of Qu Yuan, a Chu state official and poet who lived during the Warring States Period (475-221 BC) before the reunification of China under the Qin Dynasty (221-206 BC).
Apart from the Han people, there are twenty-six ethnic groups also celebrating the Dragon Boat Festival on there own ways. Here are 4 of them.
Tibet Ethnic Group
The Tibetan ethnic group, one of the 56 ethnics in China, is mainly scattered in the Tibet autonomous region and Tibetan autonomous prefectures in Qinghai, Sichuan and Gansu provinces.
The Tibetan people also celebrate the Dragon Boat Festival, which is called Sang Jie Man La Festival instead, implying a festival for pharmacist Buddha. When people of Han ethnic group eat zongzi, insert mugwort on their lintels as well as ride in dragon boat to commemorate Qu Yuan, Tibetan people are eating steamed vegetable buns and participating in archery competition in memory of the great pharmacist Buddha who has brought health and peace to the world. They also have the tradition of inserting flowers and grasses in their lintels, mostly the Ji Ma Mei Duo (a wild local plant).
In Tibet, it is said that drinking spring water can cure various illness, while bathing with spring water can make one's body healthy and strong, and will prolong one's life. Therefore drinking and bathing in spring water is a traditional activity of the Dragon Boat Festival.
However, children have their own celebration ways. They come to riverbanks, woods and cliffs to pick fresh blue Ji Ma Mei Duo and inset them on their own lintels. Mothers will put sachets made from a variety of medical herbs to implore the pharmacist Buddha to bless healthy growth of their children.
Dai Ethnic Group
The Dai ethnic group, with a population of about 1.2 million, mainly lives in Xishuangbanna, known as "The Land of Peacocks" in south part of Yunnan province, south-west China. Dai is the name the ethnic calls itself, which means freedom.
Mostly popular among Yi autonomous prefecture in Yunnan, the Dragon Boat Festival of Dai ethnic group is usually named as Zong Bao Festival, a folk festival there. Differed from that of the Han people, the theme of the festival is more about love.
During the festival time, single men and women dress in finest clothes, singing loving songs together in a circle. Then, young men send their Zong Bao to the girls they are fond of. If the girls have the same good feeling about the men, then they will hang out together, starting their loving journey.
Special coverage: Your guide to the Dragon Boat Festival