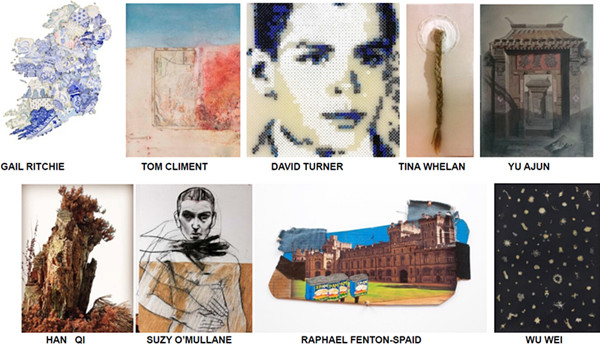 Some of the artworks to be presented in the exhibition. [Photo/chinadaily.com.cn]
A multi-national exhibition featuring nationhood and cultural identity will kick off in the Beijing's 798 Art Zone this Saturday.
As part of Irish Wave, an annual art event held in China, the 'Birth of a Nation' exhibition will showcase a collection of contemporary artworks of artists from Ireland, Northern Ireland, Chinese mainland, Taiwan, USA and Australia, exploring the relations between the state and individuals' life.
"It opens communication and dialogue and gives the real sense of a culture and art exchange program," said Ning Zhang, co-curator of the exhibition in Beijing.
A bilingual artist/curator presentation aimed to attract collectors of contemporary art will be offered on Saturday afternoon and the event will be led by artist/curators Fion Gunn, Niamh Cunningham, and Gail Ritchie in collaboration with Ning Zhang.
The exhibition will be open to the public at NING SPACE, 798, Beijing, from March 12. It will also be showing at the Sanwei Art Center in Shanghai, from 19 March.
Irish Wave is a long-term transnational program that explores how diverse cultures and ethnic groups can learn to coexist in a more peaceful and tolerant way through the presentation of contemporary art.
For more information about the exhibition, please visit its official website: http://www.ningspace.com/ (Beijing) and www.sanweiartcenter.com (Shanghai)