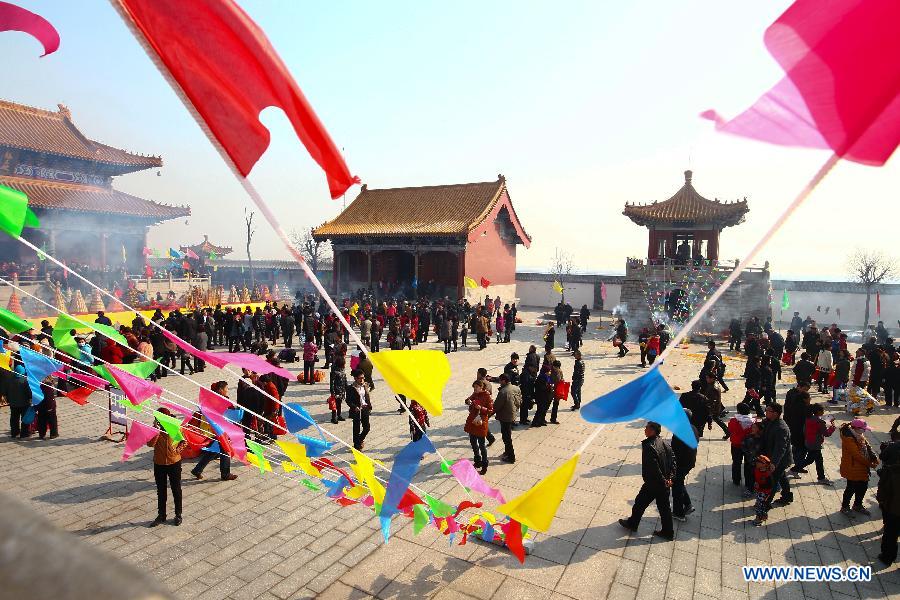 People pay tribute to the dragon king of sea and god of salt on the occasion of Longtaitou Festival in Weifang, east China's Shandong Province, March. 2, 2014. The Longtaitou Festival, or Eryueer Festival, which means "dragon raises head" in Chinese, is the starting day of farm and fishery work of a year. People held the sacrificial ceremony to pray for seasonable weather with gentle breeze and timely rain in fishing and salt industry. [File photo/Xinhua]
The traditional Chinese Longtaitou Festival, or Dragon Head Raising Festival, falls on the second day of the second lunar month every year, which refers to the start of spring and farming. The festival falls on March 10 this year.
Ancient people believed that after the second day of the second month on the Chinese lunar calendar, the rain will increase because the rain-bringing Dragon King has awakened from his winter sleep.
There is a widely known idiomatic phrase which goes, "Er yue er, long tai tou". It means "On the second day of the second month, the dragon lifts his head."
The festival is a reflection of the ancient agrarian Chinese culture, and some of the old ways to celebrate the festival are no longer in practice, but some still carry on.