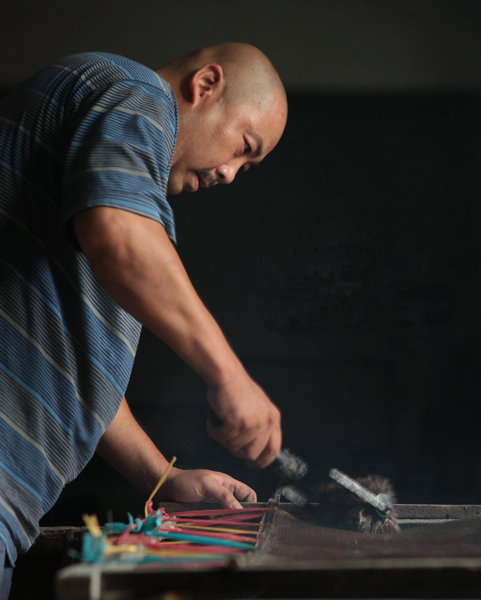 Photo provided to China Daily
Cheng Xiaochun says the secret to his craftsmanship is a modest lifestyle.
He makes sieve-like screens, or molds (zhilian in Chinese), which are crucial for creating traditional Chinese rice paper and other types of paper. It is a family business that Cheng became interested in while still in elementary school. Now 43 years old, Cheng was proclaimed a master at his craft in his mid-20s.
"Once your are rich you become lazy," Cheng tells China Daily. "Refrain from getting rich if you want to rely on your hands."
Masters of the trade-only a few remain in the country-are able to make paper by just looking at a piece. The making of Chinese rice paper typically involves more than 80 procedures. For example, if a stack of paper weighs some 2.5 kilograms, a refashioned bunch will deviate no more than 6 grams in weight.
The rice paper, or xuanzhi, which originated from Anhui province in the country's east, is the cornerstone of Chinese calligraphy and painting. Chinese artists are always keen to get well-cut rice paper. A proper cut (roughly 100 sheets) by machine could cost 1,000 yuan ($152) nowadays, while a coveted antique cut could go into tens of thousands of yuan.
Around 1,200 tons of rice paper are consumed each year in the country, according to China Publishing News.
A zhilian (138×138 centimeters) takes around a month to complete and could fetch from 20,000 to 30,000 yuan. A steady mold could sustain the making of 200,000 sheets of paper.
"I'd say it's mostly muscle memory, nothing too mystifying," Cheng says.
But it does require a few "skills".
Cheng says he is immune to Chinese lacquer, an ingredient for making molds that chafes the skin, and he is less enthusiastic about cutting corners.
"I was introduced to the family business the traditional way. I started from the most tiresome, elementary jobs like scrubbing the place clean," he recalls. "If I got distracted for a second, my grandfather would not hesitate to give me a beating."
It is no longer the case for his own apprentices.
"You can't force young people to go through that hardship now," he says, adding that theories seem to play a greater role in mentoring than practices these days.
With new ways of teaching, Cheng says he cannot tell where the art is headed.
The mold-making business is 300 years old. But the industry peaked in the 1960s, when many artisans from different trades came to Cheng's hometown in Zhejiang province's Quzhou city and settled down to assist the paper industry. Cheng's family had migrated from Anhui much earlier.