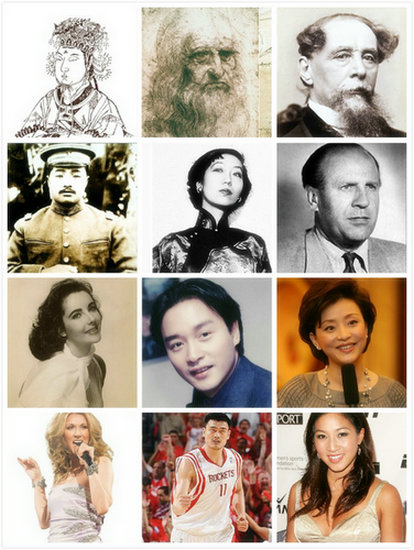 Twelve celebrities born in the Year of the Monkey. [Photo/Xinhua]
In Western astrology, there are 12 astrological signs; and in Chinese astrology, there are 12 zodiac animals. They are mouse, cow, tiger, rat, dragon, snake, horse, sheep, monkey, rooster, dog and pig. In Chinese culture, it is believed that people share some common characteristics with the zodiac of the year when they were born. For example, people who were born in the Year of the Dragon are considered lucky, and people born in the Year of the Pig are materially rich.
Feb 8, 2016 marks the start of the Year of the Monkey. And people born in the Year of the Monkey are often believed to be smart, flexible and ambitious, and can adapt to the changing environment quickly.
Many celebrities were born in the Year of the Monkey. We chose 12 of them from China and abroad. Some came and passed away, shining like meteors, while some are still with us.
Leonardo da Vinci
Born in 1452 in Italy, Leonardo da Vinci was one of the greatest painters in the world and is well known in China. Most of the Chinese people born in the 1980s know him from an article called Painting Eggs in a Chinese elementary school textbook. His Mona Lisa became a muse to Chinese artists and there is a popular Chinese song called The Tears of Mona Lisa.
Charles Dickens
Charles Dickens was born in 1812 in Britain. He is the author of some of the best-known novels and short stories around the world. His masterpieces are always on recommended book lists for both young children and adults in China.
Oskar Schindler
Without the 1993 film Schindler's List, Oskar Schindler might be still obscure. Born in 1908 in Germany, Schindler saved 1,200 Jewish people during the Holocaust in spite of his Nazi Party membership.
Elizabeth Taylor
Taylor was the goddess-like movie star born in 1932 in London. Her deep blue eyes were always a strong feature on her face. She played many classic roles in Hollywood films in the 1950s. In Cleopatra (1963), she created an unforgettable image of the last pharaoh of Ptolemaic Egypt.
Celine Dion
Celine Dion became a household name in China due to her huge hit, My Heart Will Go On, from the hit film, Titanic. The song even has a Chinese version and enjoyed great popularity along with the 1997 film in China. Dion, born in 1968, is a gifted Canadian singer with a five-octave vocal range. Her voice can let the toughness and softness echo in harmony. She performed in the annual CCTV Spring Festival Gala in 2013 for the Year of the Snake.
Michelle Kwan
Michelle Kwan was born in 1980 in the US. As a two-time Olympic medalist and five-time World Champion, Kwan is an accomplished figure skater among her peers. Her parents are Hong Kong immigrants. Kwan began serious skating training when she was 8 years old.