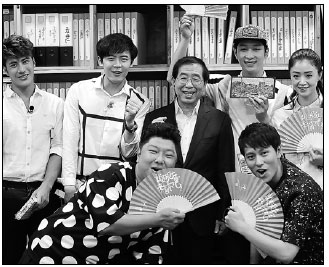 Stars of the reality show Let's Go! Go! Go! pose with Park Won-soon (center), mayor of Seoul. [Photo/China Daily]
While in recent years, most Chinese reality TV shows have either been inspired by or simply copied from established programs in South Korea, a new show, tailor-made for China, stands out.
First aired in November, Let's Go! Go! Go! is a coproduction of Hubei Television and Korean entertainment giant CJ E&M, and runs through February.
The show, which seeks to encourage strong values among the youth, comes without a known Korean predecessor.
It follows six young Chinese male TV and movie stars' cultural journeys through South Korea and Sri Lanka as they go on a treasure hunt.
Among regular features on the show is actor Li Yifeng, while the list of guests includes Chinese and Korean celebrities, who appear from time to time.
The treasure hunt leads participants to discover hidden everyday objects such as chopsticks, ginseng or even rocks that reflect the spirit of cooperation, persistence and bravery - all essential elements for a person's growth, according to the show's producers.
The show comes at a time when some say present-day Chinese male celebrities look increasingly effeminate.
Such representations are "distorting" traditional aesthetics, says Gu Kai, general director on the Chinese side of the show.
"We want to show the importance of men being responsible, thoughtful and decisive," Gu says, adding that the show will possibly fill some "spiritual voids" for modern Chinese men.
"We also encourage the young generation to fight cowardice or procrastination, and endeavor to remain strong."
Earlier, the show conducted a poll on Baidu.com to find out young Chinese women's preferences with regard to a future husband.
Almost 70 percent of the 300,000 people polled on the website said "no" to the question: "Is a man's pretty face the most important criterion?"
Although the show is among China's high-budget TV productions shot overseas, Gu believes Let's Go! Go! Go! works because it shows participants trying to connect with local cultures.
"The participants immerse themselves in local communities to begin a cultural dialogue in a balanced way and at a deep level," he says.
All shooting for the show has been handled by a Sino-Korean team. The Chinese producers are responsible for the scripts of different episodes, while their Korean colleagues bring their post-production expertise to the table.
"Though Chinese and Korean producers closely cooperate with each other for the show, some challenges are obvious," says Park Woo-jin, Korean director of the show, from CJ E&M.
He says his company's previous trials in China to make local reality shows were not successful.
Other than language issues, the Chinese audience's understanding of on-screen subjects and humor was different from Korean audiences.
"We have to adjust accordingly. This show will explore its own unique model mixing experiences from both countries," Park says.
Gu says it is time to make Chinese reality TV shows more "down-to-earth".
And audience response has been good.
According to Beijing-based media researcher CSM, more than 1 percent of TV audiences in 34 major Chinese cities watched the latest episode of Let's Go! Go! Go!, which ranked fifth nationwide among TV shows simultaneously broadcast on Sunday.
Gu says their greater ambition is to promote a new industry chain for reality TV shows in China.
For example, shorter and daily updated versions of the show will soon be released online.
In a bid to convert viewers into tourists, the show will give detailed travel tips for routes on Let's Go! Go! Go!
"It shows a new face of Chinese growth, which will push Chinese reality shows to a new level."