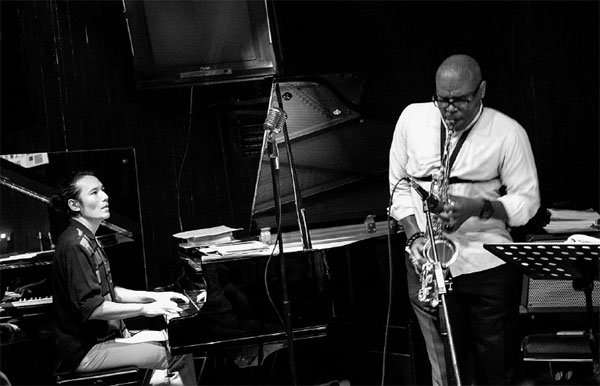 Chinese jazz pianist Luo Ning collaborates with American jazz alto saxophonist Antonio Hart during a Beijing concert. [Photo/China Daily]
Once little-known in Beijing, jazz is finding its Chinese soul thanks to some dedicated musicians, Chen Nan reports.
The area around Beijing's Houhai Lake, which is known for bars, ice skating and traditional hutongs, is cold and quiet on this late winter afternoon. A nearby second-floor bar, East Shore Live Jazz Cafe, by contrast, is full of excitement.
Liu Yuan, the owner of the bar, the city's only venue completely dedicated to jazz, is catching up with his old friend Luo Ning, a Chinese jazz pianist who has just returned from Cape Town, South Africa.
"I saw pictures and videos: You looked great in the green suit and the jam was very impressive," says Liu, a 55-year-old saxophonist, a pioneer and promoter of jazz in the country.
Liu is talking about the early December performance that Luo gave at the opening ceremony of the Chinese Cultural Festival in Cape Town. The pianist played five original jazz works by collaborating with musicians from South Africa. It kicked off a series of events jointly presented by China's Ministry of Culture and the Ministry of Arts and Culture of the Republic of South Africa.
"Usually the Chinese government sends acrobatic or Peking Opera troupes to do cultural-exchange programs abroad," Liu tells China Daily. "This time, a Chinese jazz pianist represented the country to collaborate with world-level musicians. It's a big step for China's jazz scene."
When Liu, a Beijing native who started out as a folk musician in his early 20s, first learned saxophone in the 1980s, there were only five or six professional jazz musicians in Beijing.
"We didn't have a place to perform jazz. Few people in China knew what jazz was. All the knowledge we had was from tapes and magazines, which were brought back by our friends from the West," says Liu, who also played rock 'n' roll in a band with Chinese rock legend Cui Jian.
However, jazz is developing nowadays thanks to the Internet. Chinese jazz musicians who are passionate about the music are working hard, and influential jazz musicians are coming to China to perform.
"Luo has a solid background of classical music and has developed his own imagination as a jazz pianist," Liu says.
"Many people in China claim to be jazz musicians but they are not. They just imitate the sound, rhythm and feeling of jazz but they don't know what jazz is."
Calling Liu his mentor, Luo smiles shyly and recalls that he, along with the South African musicians, just rehearsed once before the final performance.
"The communication was very smooth. They knew what I wanted to say with music and so did I," says Luo.
He also told Liu that he will fly to New York to record his new album, The Encounter of Light and Shadow, on which he will be joined by American jazz musicians like drummer Dave Weckl and trumpeter Randy Brecker.
Now in his 30s, the Urumqi-born pianist started learning classical piano at 4. With his father teaching music at a local art center, Luo, along with his sister and brother, grew up listening to classical piano and violin.
"My father recalls that I could play a song I heard from a movie without any training. I guess it was the instrument that chose me," Luo says.
Although fascinated with the music of composers like Rachmaninoff and Beethoven, Luo gradually displayed his talent at adapting classical music works into his own compositions.
After graduation from Xinjiang Arts University, Luo came to Beijing in 1996 to pursue his jazz dream. Soon, introduced by a friend, Luo met Liu and started performing at Liu's bar.
"At that time, nearly all jazz musicians in Beijing came to Liu because he is well-known and determined to build a scene in the country," Luo says. "We learned and jammed together. Music is full of color and imagination to us."
In 2010, he went to further his musical education at The University of Arts of Cuba, where he studied with Cuban pianist Chucho Valdes. The eight-time Grammy Award winner, now 74, opened Luo's eyes to the jazz genre, Afro-Cuban music and Latin American rhythms.
"I once asked him why his music is so attractive. He told me that it's because he has a Cuban heart," recalls Luo. "As a Chinese musician, I want to create music with a Chinese heart. That's what I say with my music."
One of Luo's early works is Farewell My Concubine, which was inspired by the famous Peking Opera piece of the same name performed by late master Mei Lanfang (1894-1961). Luo wrote his piece in 2011 after visiting Mei Baojiu, son of Mei Lanfang, who is also a Peking Opera master.
He also fuses jazz with music elements from Xinjiang, including the pieces The Beautiful Kashgar, Xinjiang Xinjiang and The Heart of Sayram Lake.
"I am proud that some Chinese musicians are able to play with world-class musicians on the same stage, though we started jazz very late and Chinese jazz is still in its infancy," says Liu.
He also mentions 16-year-old jazz pianist Dai Liang, also known as A Bu, who won the 2015 Parmigiani Montreux Jazz Solo Piano Competition and now is studying at the Juilliard School in New York.
"I am very positive about the country's jazz scene because these people are the future," Liu says.