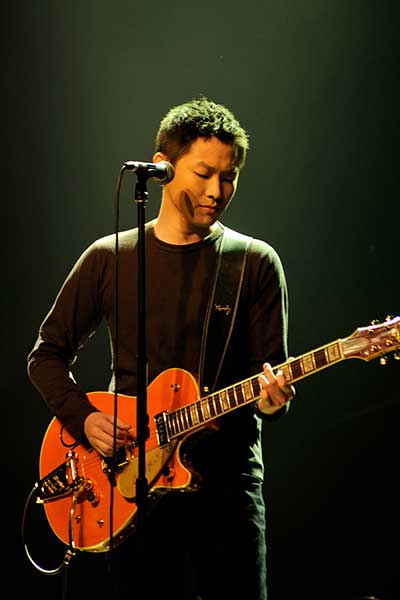 Singer-songwriter Liang Bo recently released his second album, Mi Cang. [Photo by Zou Hong/China Daily]
When Liang Bo won the first season of The Voice of China, a popular reality show on Zhejiang Satellite TV that premiered in July 2012, everyone thought this young man's career was ready to take off.
However, to many people's surprise, he slowed down.
It took 19 months for him to release his self-titled debut album. His second album, Mi Cang, which was released recently, took him another 19 months to finish.
"I am not good at handling fame. I don't want to walk into the spotlight without my songwriting work. The only reason I am onstage is because I have something new to express, to share," he tells China Daily.
The 24-year-old composed and wrote lyrics for the albums, which he also produced. Loaded with pop-rock tunes, like the lead single, Upside-Down Dream, and the blues-rock tune, Dangerous, the album was recorded in Beijing.
The title of the album, Mi Cang, refers to the game hide-and-seek. To Liang, the process of growing up is like playing hide-and-seek.
"The older I am, the more reflective I get. I try constantly to figure out who I am and what kind of singer-songwriter I want to become," he says.
In one of his new songs, Change, Liang sings: "They say I've changed. There are so many possibilities happening with me. But I am not aware of that."
The song reflects Liang's personal transition.
"The Voice of China introduced me to audiences. But I am not a new hand in terms of singing and songwriting. I have been ready for the industry for years," he says.
Born in Changchun, Jilin province, in Northeast China, Liang has wanted to become a singer-songwriter since he got his first guitar at 12. It was a birthday gift from his mother.
He learned guitar at a local music-training center, where he met professional singer-songwriters. He recalls that he was so obsessed about the instrument that he even drew six lines on his desk in school, resembling the guitar strings, and practiced day and night.
At 13, he started songwriting. In 2009, Liang was admitted into the Jilin College of the Arts, majoring in pop-music performance.