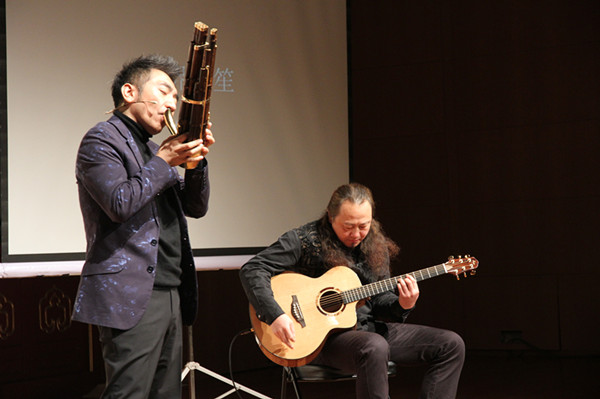 Wu Tong (left) will perform with musicians of different genres to present the ancient reed instrument, the sheng, in a new light in his upcoming concerts in Beijing.[Photo provided to China Daily]
After a two-year hiatus, musician Wu Tong returns with a crossover concert, titled The World and Sheng, which will be staged at Tianqiao Performing Arts Center in Beijing on Thursday and Friday.
Besides doing vocals and playing the reed instrument, the sheng, Wu will jam with Grammy-nominated Indian tabla player-composer Sandeep Das and Spanish bagpipe player-singer Anxo Lois Garcia Pintos.
"The sound of the sheng is so beautiful that I am eager to use it to communicate with other musicians. This kind of cooperation always brings inspiration and imagination to me," says Wu, 43.
The sheng, one of the oldest Chinese wind instruments with a history of more than 3,000 years, is usually used to accompany the suona (double-reed horn) or pipa (lute), which have varied and expressive sounds.
Wu used to consider the sound of the sheng to be boring, despite playing the instrument for 38 years. However, around four years ago, Wu began to think differently.
He remembers a particular day when he stayed at home alone and played his instrument just for fun. He blew and inhaled slowly, making continuous and simple notes. The vibration of the instrument left him relaxed and peaceful.
"It felt like that I was having a conversation with a person, who is of few words but has wisdom and a good manner. I was immersed in the serene atmosphere," Wu recalls.
"I realized that I didn't know the sheng well. Then I stopped touring and concentrated on researching the instrument."
He also read books about the instrument, such as Sheng Fu, a collection of prose written by Jin Dynasty (AD 265-420) poet Pan Yue, from which he learned that the sheng is an instrument about balance and harmony.
"That's why it is indispensable in a Chinese folk-music band," he adds. "I want to share my new knowledge and understanding with audiences."
Born in Beijing to a musical family that has been crafting the instrument for more than 100 years, Wu started playing the sheng at age 5.
However, Wu didn't find the instrument interesting until he was 11.
"I didn't like playing the instrument with strict rules. At 11, I improvised with the sheng for the first time and I knew that I fell in love with it," he recalls.
In 1990, Wu enrolled at the Central Conservatory of Music as a sheng student. But the rebellious young man spent most of his time in a rock band, which he formed with some schoolmates.