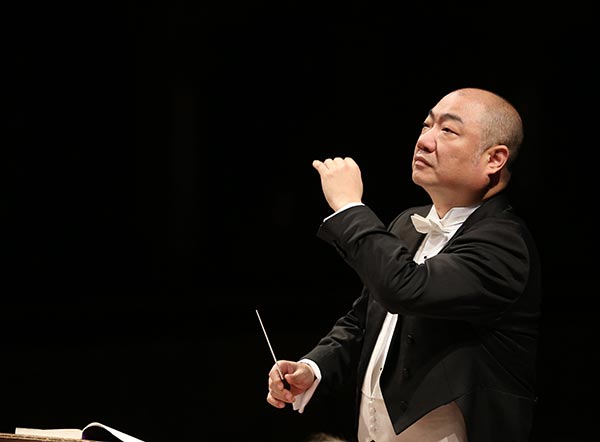 Pianist-turned-conductor Xu Zhong is one of the few Chinese musicians recognized by global audiences. [Photo provided to China Daily]
Music lovers in China may know him as a pianist, but Xu Zhong will be taking on a new role as the principal conductor of the Fondazione Arena di Verona in January.
This is a breakthrough for Xu, as well as musicians from China, says Rudolf Tang, a music critic and founder of Klassikom, an online news center about classical music.
The post had been vacant for many years before the board of the Fondazione decided to hire Xu. In the coming three years, Xu is expected to conduct at least one opera production during the open-air Verona Arena Festival and two concerts/operas in the season at the residential Teatro Filarmonico.
Fondazione Arena di Verona runs the annual Verona Arena Festival and the Teatro Filarmonico. The festival takes place every summer in the Arena di Verona, an ancient Roman amphitheater capable of holding 30,000 spectators. It's one of the most celebrated opera festivals in Europe, attracting tourists from all over the world.
Francesco Girondini, superintendent of the Fondazione, says he's been aware of Xu since 2012, when he became the artistic director and chief conductor of the Teatro Massimo Bellini in Italy as well as of Israel's Haifa Symphony Orchestra.
"We have kept a close watch on him and are glad that he landed in Italy after a very successful career as both a concert pianist and conductor. We invited him to conduct our orchestra several times. He was loved by the orchestra members and the audience," Girondini says. "He is a man of profound charisma and musicianship."
Xu says he's honored to accept this offer.
"I look forward to closer and more frequent collaboration between the house and its Asian counterparts. Opera is quickly becoming China's newfound love."
By taking the position, Xu hopes to encourage more Chinese visitors to the opera festival.
The appointment is one more demonstration of Chinese musicians' rise on the international stage, says music critic Tang, adding that a growing number of Chinese musicians have been winning at international competitions.
Xu says it's not unusual for pianists to evolve into conductors. Some have achieved world fame, such as Mikhail Pletnev, Vladimir Ashkenazy and Daniel Barenboim.