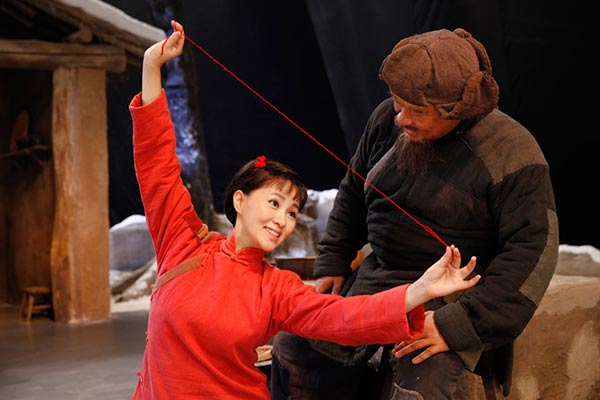 A scene from the remake of The White Haired Girl. [Photo/People.cn]
Theatrical remake of The White Haired Girl, a story about a young woman's inner struggle in a time of difficulty, has completed is nationwide tour with the last show performed in Beijing on Tuesday.
As a milestone in China's theatrical development, the original version of The White Haired Girl, composed by Yan Jinxuan, met the public in April, 1945, in Yan'an with artist Wang Kun in the leading role. Seven decades later, the Ministry of Culture issued a re-production of the classic Chinese tale, with China's first lady Peng Liyuan as the artistic director.
The story centers on the life of Xi'er, a girl born of humble origins in Shaanxi province.
Xi'er escapes to hide deep in mountains after her father Yang Bailao is killed by the greedy and cruel debt collector Huang Shiren.
Due to her difficult circumstances and prolonged malnutrition, she loses the color of her youth, as well as of her hair. It is the birth of new China that allows her to lead a normal life once again.
This year's The White Haired Girl tour was well received in cities across China, and many praised the reproduction for its "strict adherence to the original storyline", which stirred senses of nostalgia for the older audiences, and its realistic depiction of the times Xi'er lived in, for the younger generations to learn more about China's history.
Tickets for the play, which were reasonably priced from 100 yuan ($15.43) to 280 yuan ($43.2), were sold out only one day after they went on sale in Shanghai. Staff at the Hangzhou Theater of Hangzhou, Zhejiang province, said was one of the most appreciated performances of the year.