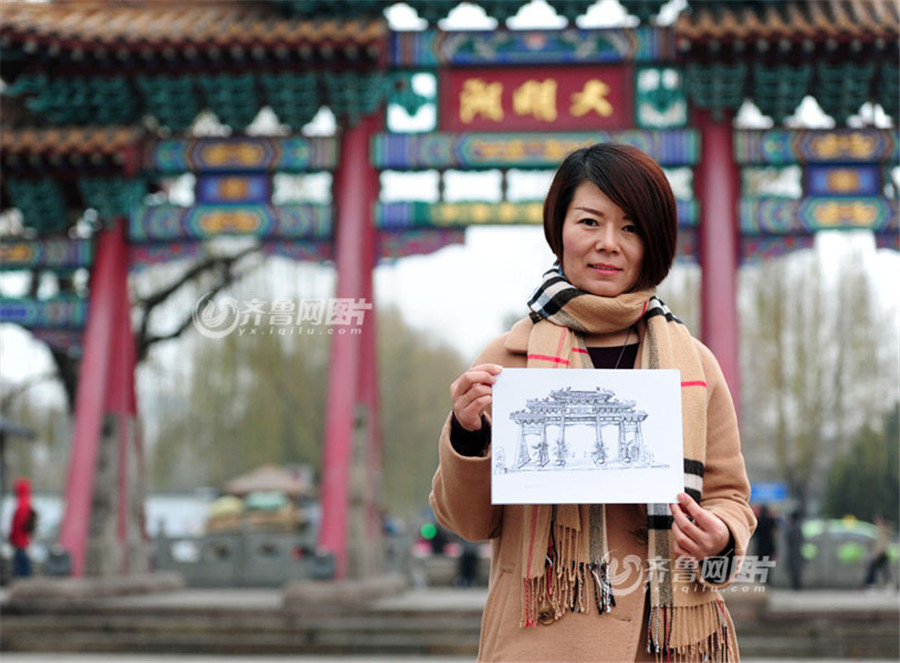 Zhou Yingfeng presents her pen drawing. [Photo/Iqilu.com]
Zhou Yingfeng is an art teacher at Shandong Experimental High School. Her painting portfolio, which is named "Old Jinan Style" and consists of 120 pen drawings, was highly enjoyed by those who have seen it.
Zhou graduated from Shandong Normal University as an oil painting major 12 years ago. She had never drawn with pen before she made up her mind to restore old Jinan's style in all black and white. She spent one full year walking the streets and lanes of Jinan city, collecting and reading tens of thousands words, and going through 100 pens. Finally, Zhou presented her vivid portrayal of Jinan to the public through 200 drawings.
In order to better present the details of buildings in old Jinan city, Zhou used various pens whose nibs ranged from 0.5 mm to 20 mm; she always kept more than ten different pens nearby while working on her drawings.
After finishing work at the high school, Zhou would go to scenic spots and historic sites such as the Baotu Spring and Daming Lake in order to start her drawing there. When drawing the disappearing historic buildings, she often reviewed documents and literature in the library.
As an art teacher, Zhou always teaches at least two classes per day and prepares students to participate in the art competition. She took advantage of any free time to draw.