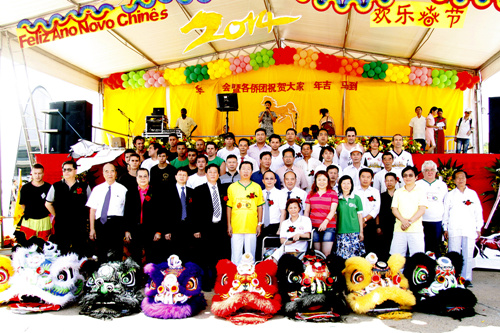 Chinese community and local Brazilians pose for a group photo after a lion dance performance. [File photo] 
There has been a long tradition that Chinese people and British people are interested in each other's culture. The two countries have more possibilities and opportunities nowadays to make their cultural exchange a great flourish, Professor Alan Macfarlane at the University of Cambridge, said in a recent interview with Xinhua.
Macfarlane, chairman of the Cambridge Rivers Project and life fellow of King's College, Cambridge, has held a series of events for some well-known Chinese students who studied at the university in the past years.
Among those famous Chinese students, Xu Zhimo, a very popular late poet in China, was commemorated by a photographic exhibition and an international poetry festival.
Xu had some friends in the King's College, such as Roger Fry, Lowes Dickinson, and they learnt from each other at that time. Followed by Xu, Yeh Chun Chan and Xiao Qian, both were great translator and writer, also bridged the cultural exchange between China and Britain from 1920s, according to Macfarlane.
Professor Macfarlane first visited China in 1996 as a tourist. After 2002, he went to China every year, as anthropologist and historian, traveled over most of China, from remote villages to megacities, with camera and his students.
"China was just beginning to develop rapidly at that time. But the roads were still quite rough, the hospitals were still very simple, and the airport was just being extended by people who didn't have any machinery. They were just using wheel barrows to make new airports," he recalled.
He witnessed huge changes of China, not only in the big cities and the countryside, but also the development in education and law courts occurred in the last 20 years.
"Behind the huge changes, the people stay the same. The character of people and their attitudes towards their families, stays much the same. And that deep structure hasn't changed from the Han Dynasty," he affirmed.