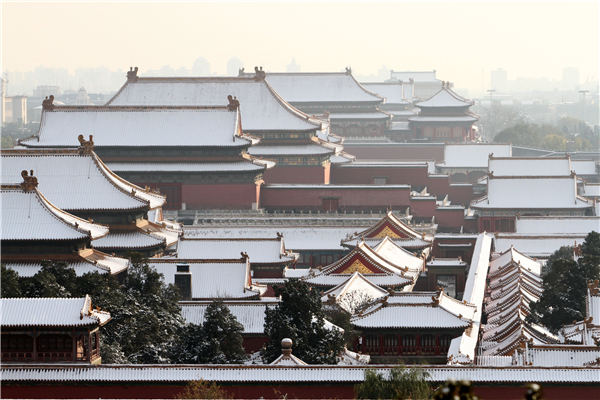 The Palace Museum in Beijing is one of the country's first UNESCO World Heritage sites. [Photo by Zhuo Ensen/China Daily]
China celebrates UNESCO founding with pledge to protect its own sites and do more, Wang Kaihao reports.
Preservers of Chinese heritage gathered at Palace Museum in Beijing last week to celebrate 70 years of the founding of UNESCO and the 30th anniversary of China's ratification of the World Heritage Convention.
The Palace Museum, which is also known as the Forbidden City, the Mogao Caves in Northwest China's Gansu province, and sections of the Great Wall were among the first six Chinese locations to be declared UNESCO World Heritage sites in 1987. With 48 today, China has the world's most such sites after Italy.
"China's World Heritage sites differ in types and landscapes, which is admired by the whole world," says Du Yue, secretary-general of Chinese National Commission for UNESCO.
"In the past decades, government bodies and the private sector have both cooperated with UNESCO (to declare such sites)."
In China, protection of UNESCO World Natural Heritage is supervised by Ministry of Housing and Urban-Rural Development, while the State Administration of Cultural Heritage is in charge of works related to World Cultural Heritage sites.
Lu Qiong, deputy director-general of sites' protection and archaeology under the State Administration of Cultural Heritage, says China's sites are distributed across wide geographical locations such as the Great Wall, stops along the ancient Silk Road and the Grand Canal.
"China's cultural heritage preservers at all levels have nurtured expertise in protection, management, academic studies, supervision and display of these sites," Lu says.
She cites the restoration of the Great Wall, which is more than 20,000 kilometers, among such major works.
China's nationwide World Heritage supervision and warning system for natural decays of such property or man-made damages is still under construction, Lu says.
Annual reports and collection of data will be needed to refine the management.