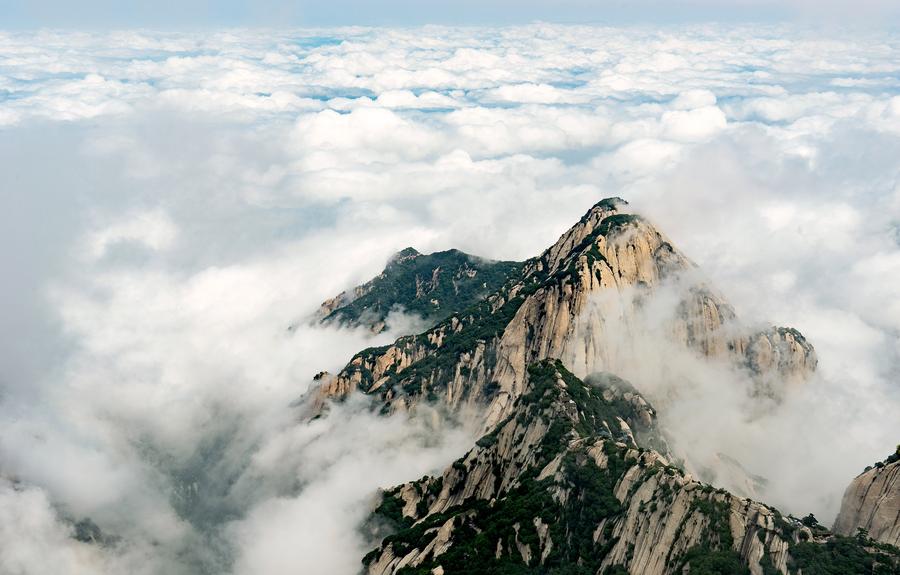 Huashan Mountain is surrounded by clouds and fog. [Photo/Xinhua]
Located in Shaanxi province, 120 kilometers east from Xi'an City, Mount Huashan is one of China's Big Five mountains. The site of 210 natural and cultural scenic spots, it is often referred to as the "root of Chinese civilization".
Huashan Mountain boasts five imposing peaks with sheer precipices and overhanging rocks: the east peak is called the Peak of the Rising Sun which is the best location to view the sunrise; the north peak, the Peak of Cloud Terrace which is famous for cliffs on its three sides; the west peak, the peak of the Lotus; the south one, the Peak of Wild Geese which is the main peak and also the steepest of Huashan Mountain with an elevation of 2,083 meters; and the Central peak, the Peak of the Jade Maiden, which links the east, west and south peaks. Each presents a unique scene of beauty, surrounded by over 70 minor peaks.