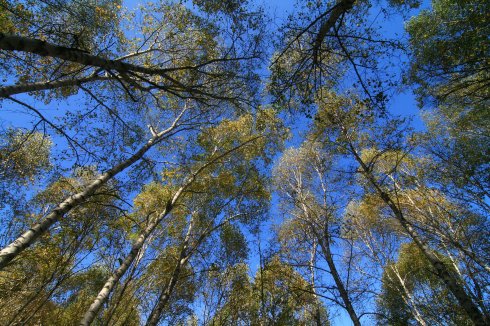 Towering golden-leaved birch trees in Labagoumen. [File photo]
Labagoumen, located in Huairou District, is the northernmost town in the municipality of Beijing. Bordering Hebei Province, it lies 150 km from the heart of the capital. The name Labagoumen describes its geographical characteristics: The town is embedded in a trumpet-shaped valley (laba means trumpet and gou means valley in Chinese); moreover, it is precisely at the entrance (men means door) of that "trumpet".
Labagoumen is now the largest community of the Manchu ethnic group in Beijing. Of its 60 villages, 10 are inhabited predominantly by the Manchus.
With vast forests, springs, clean air, and a comfortable climate (around 20 °C in summer), Labagoumen is known as a "longevity town" in northern China and is attracting more and more tourists.
The rambling Labagoumen National Forest Park occupies more than 60 percent of the total area of the town.
Mountainous Landscapes
Labagoumen's magnificent mountain scenery immediately captivates visitors. In October, the forests become multicolored. Green, red, and yellow hues against the blue sky form a painter's palette.
Many Beijingers regard Labagoumen as their "rear garden", somewhere pleasant to take a stroll at the weekends. From the capital, the G111 National Highway leads to Huairou's northern mountainous area and in just two hours' drive, a completely different view appears.
Most tourists choose to homestay in the village of Sunzhazi near the national park. In this park, there are two main places of interest: Fenghuang (Phoenix) Platform and Wulongtan (Pond of Five Dragons) Lake. Fenghuang Platform, three km from Sunzhazi, is the most popular sight. The scenic spot also contains the largest white birch and oak forests in Beijing. The foliage of these trees changes color in the autumn: The birch leaves turn a shimmering gold, and oak leaves flame-orange. The temperate mountain ecosystem of the area allows rich fauna and flora to thrive.