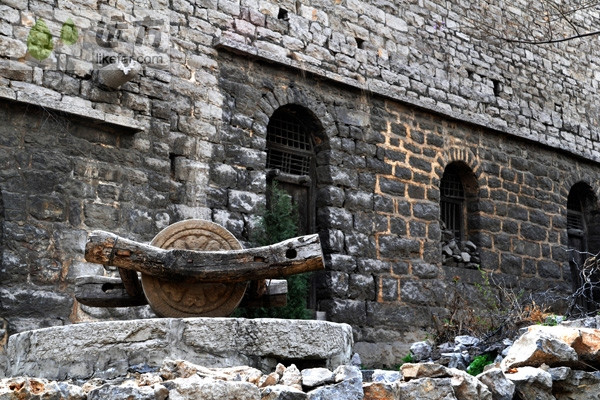 Liangjiacun Village locates in a mountain side near Shijiazhuang, the capital city of Hebei province. [File photo]
China's rapid development notwithstanding, the layout, architecture and folklore of the "seven ancient villages" in Jingxing County of Shijiazhuang, capital of Hebei Province, remain intact. Now on the list of "traditional Chinese villages", they are havens for urbanites in search of bucolic bliss.
Liangjiacun Village
Built on a mountain side, tranquil Liangjiacun Village is scantly populated because most of its working-age inhabitants have left to find work in urban centers. The village's courtyard homes, distinctive for their prominently ridged roofs, line the flagstone paths that separate them into alleyways. They give the impression of having stood for centuries.
The village residents maintain age-old hospitable customs. As we strolled along the alleys more than one senior gentleman invited us to their home for a cup of tea.
In the depths of one alley I came upon an ornately carved door to a building with an overhanging gable roof. A local neighbor told me that it was once an ancestral temple. Although the courtyard walls were covered with weeds and cobwebs, I could still make out the screens and carved wooden doors of the wooden structure and its stout wooden eaves. Ornamental fish tinkled in the breeze, and I could see the calligraphic carving of the character for bat, considered propitious because it is the homonym for that meaning happiness.
On the opposite side of the alley stood a small courtyard dwelling whose beauty has faded into dilapidation since its owner moved away. Hearing us, at our request the neighbor let us in to the courtyard to take a look. It contained a wooden two-story house, an architectural style seldom seen in North China's countryside. The small courtyard and ancient house with its carved window frames brought to my mind the old Chinese poem: "I listen to the rain on a quiet night in a storied house."
Having heard that all Liangjiacun villagers are adept at martial arts I asked a small boy to demonstrate. After some encouragement from his grandfather he showed us his skill before being overcome with shyness when we applauded and hiding behind grandfather.