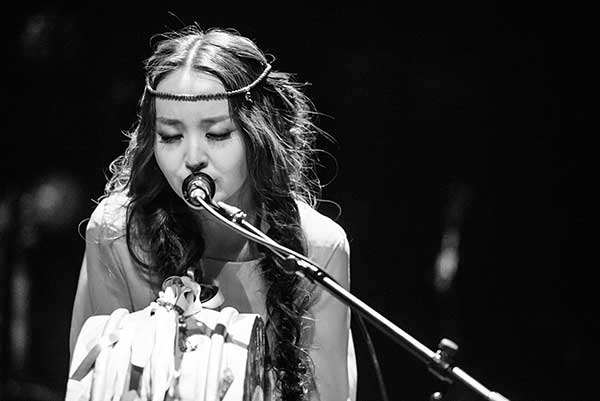 [Photo provided to China Daily]
Tana was born in Delingha, Qinghai province, and studied vocal performance at Minzu University of China.
She says that joining Haya has meant returning to the kind of singing she was born for.
"Whenever I sing onstage, the music of Haya takes me back to my childhood. It reminds me of the first time my father took me to ride horses," says Tana.
When Zhang envisioned his band, he knew that he wanted a foreign member who could bring an international angle to its music.
He met Lattanzio, a French bassist who was teaching at Beijing Contemporary Music Academy, in 2011. Besides playing bass, Lattanzio also works as the band's engineer and producer.
"When I came to Beijing, the plan for teaching here was only one year. But things changed after I joined Haya," says Lattanzio.
When he met Zhang, Lattanzio listened to him playing the matouqin, and the sound seemed deep to him.
"I think Haya's music is understandable to people from different cultures," Lattanzio says.
After he founded Haya, Zhang has spent a long time searching for his ideal musical language by combining Mongolian music with symphony orchestra, pop, rock and jazz.
Zhang says that he doesn't want to repeat traditional music. Instead, he wants to keep it alive in the modern age.
"I have done many experiments, such as adding musical elements from the Middle East and India into our music, adjusting the sound of the matouqin and making it much more harmonic with other contemporary instruments," he says.
"When I first came to Beijing, there were no more than five people playing matouqin in the city, but now there are hundreds.
"It's true that our music is still relatively unknown but we hope more people will get to know us."
If you go
7:30 pm, Dec 24. Theater of Beijing Exhibition Hall, 135 Xizhimenwai Street, Xicheng district, Beijing. 400-610-3721.