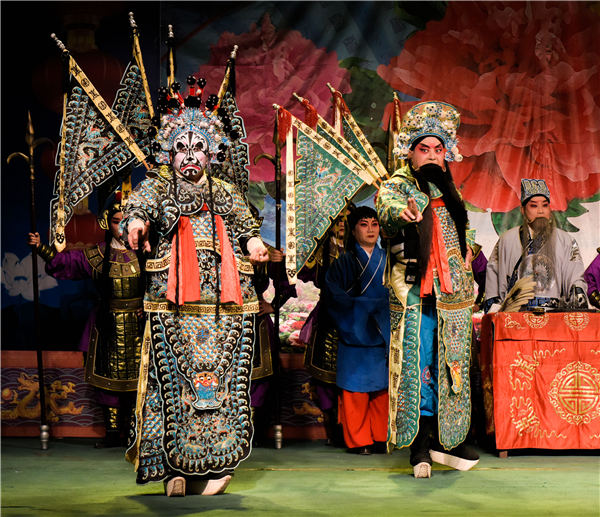 Performers from Jinan Peking Opera Troupe stage a show in Heze, Shandong province. [Photos by Bi Xiaoyang/China Daily]
It's around 8 pm. The streets are quiet. For most of Heze, a city in East China's Shandong province, which has a population of around 8 million and is known as the main center for the cultivation of the national flower peony, it is the end of another day.
But one cultural activity center is filled with energy and excitement.
Inside the old, two-floor venue, a crowd is roaring and whistling.
Eight folk opera troupes from the province are performing classic pieces with established stars.
"Usually we go to bed early but today it's like a festival," says a member of the audience who is in his 50s.
Kong Xueqin, a 48-year-old actress from the Erjiaxian Heritage Protection Center in Dingtao county, says: "It's been nearly 10 years since I performed in Heze. I am so excited that the audience still remembers my name and the roles I played."
That night she performs in a classic erjiaxian piece San La Fang. She plays a husband who bids farewell to his wife as he leaves home to take an exam.
Erjiaxian-which features folk melodies, dynamic drumming and sihu (a four-stringed instrument)-is a form of traditional opera with a history that goes back more than 100 years.
It was included in the National Intangible Cultural Heritage list in 2008.