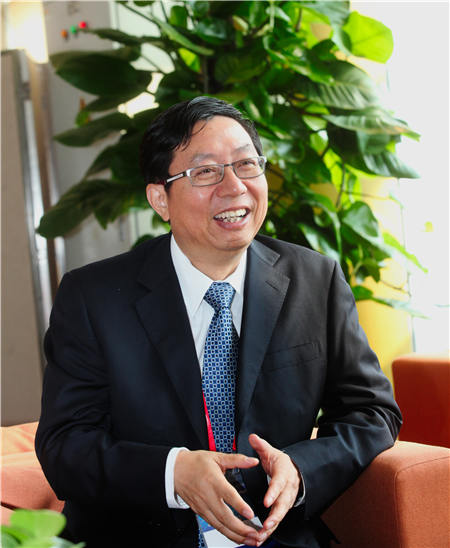 Zhang Shu is a top expert on cardiac arrhythmia. [Photo provided to China Daily]
The famous Chinese cardiologist Zhang Shu, 56, was the main official at this year's World Congress of Arrhythmias, which was held in Beijing from Sept 17-19.
As the secretary-general of the World Society of Arrhythmias that is held once every four years in different countries and regions, it was Zhang's responsibility to helm the event's smooth conduct. He is highly likely to become president of the society from 2017 to 2021, according to the rules of the body.
Cardiac arrhythmia, or irregular heartbeat, is also of immense significance to China as an increasing number of heart-related problems are reported from several parts of the country.
As one of the top Chinese experts on cardiac arrhythmia and sudden cardiac deaths, Zhang is among the rare scholars on the mainland to have been recognized by European and US organizations in the field.
That the World Congress of Arrhythmias was held in Beijing is an acknowledgment of China's efforts and progress in providing quality treatment to people suffering from such heart conditions, according to Zhang.
He is president of Chinese Society of Arrhythmias and is also the director of the Arrhythmias Center of Beijing's Fuwai Hospital, among the world's busiest arrhythmia centers, where more than 6,000 patients go yearly for pacemaker implants or catheter-ablation procedures.
The hospital is one of the top specialist hospitals for cardiovascular diseases in China.
Currently, Zhang is also leading global research that aims to improve arrhythmia treatment in underdeveloped countries.
In developed countries, cardiac pacemakers and implanted cardioverter defibrillators (ICD) are widely used to control life-threatening arrhythmias. But such treatments are too expensive to be widely applied in less-developed countries, Zhang says.
In China, for instance, incidences of sudden cardiac death, a condition in which the heart stops beating and causes death if it's not treated within minutes, is 41.84 per 100,000, and every year 54, 4000 people die of the condition, he says.