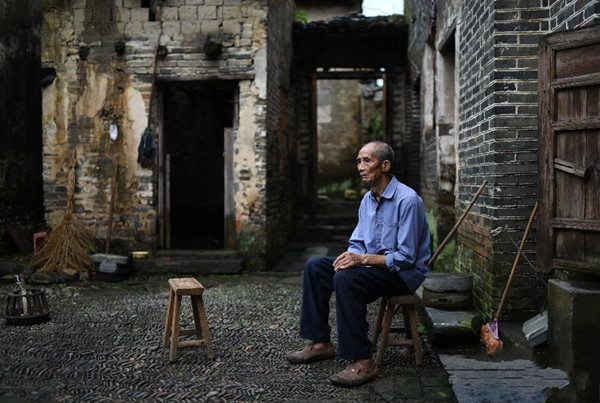 An aged man sits in his courtyard in Gubeikoui village, a traditional Chinese village in Beijing. [File photo] 
Since June, a conservation program has surveyed and made records of 281 traditional Chinese villages, said the center responsible for the program Wednesday.
Pu Jiao, vice director of the Research Center for Conservation and Development of Chinese Traditional Villages, told Xinhua the 218 villages are among 2,555 state-recognized traditional villages. Being recognized by the state merits official protection.
Among the 218 villages, the largest group is located in north China's Hebei Province. A first volume of the Records of Traditional Chinese Villages about the Hebei villages will be published by the end of this year, said Pu.
The survey aims to research traditional Chinese villages by gathering information to be recorded both in text and photos. Eight categories of information will be collected based on anthropological and folkloric principles.
There are over 5,000 traditional villages worthy of conservation in China. "Creating a file for each of them is a long process, requiring participation by more experts and volunteers," said Pu.
Traditional villages are those where the original village layout, typical houses and classic architecture are still largely intact.