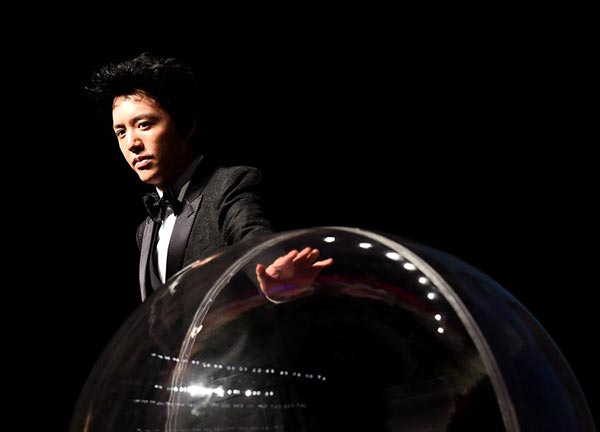 Chinese pianist Li Yundi. [Photo/Xinhua]
Li Yundi, a famous Chinese pianist, became the youngest juror in the history of the International Chopin Piano Competition, often referred to as the Piano Olympics.
In an exclusive interview with Xinhua, Li recalled how being invited to become a juror at the 17th edition of the competition signaling a return for him to Warsaw after winning its 14th edition in October 2000.
"Having a chance to come again to this place makes me very excited and brings back a lot of memories. I am also deeply moved, seeing the young participants and listening to their performances," Li said.
Back then, his performance of Chopin's "Piano Concerto No. 1" made him the first participant to be awarded First Prize in 15 years and the youngest winner -- and the first Chinese citizen to do so -- in the competition's history.
Equally important to note is that Li was 18 years old at the time, earning him the moniker "Chinese Chopin."
Fifteen years after, Li has moved on from being the youngest winner to the youngest juror of the competition.
This year's edition witnessed a record of 455 applicants from 45 countries and regions, out of which 78 were chosen through a rigorous selection and entered the final part of the competition. Among them, there was an increase in the number of participants from China and other Asian countries.
Li said he looked forward to hearing high level performances from the musicians. Asked about his advice for participants, he said though it is a competition, one should still focus on expressing their understanding of music.
Recalling his own winning performance, Li says: "Back at the time, I forgot that I was attending a competition. I unleashed my best and paid every effort to express myself. To be as relaxed as possible while performing -- that's enough."
Fryderyk Franciszek Chopin was born on March 1, 1810, in Zelazowa Wola, Masovia region, near Warsaw, Poland. In order to commemorate one of Poland's biggest composers and pianist, in 1927 a piano competition named after Chopin was established.
Since 1955, the competition has been held once in five years, becoming one of the highest and most prestigious music competitions in the world.