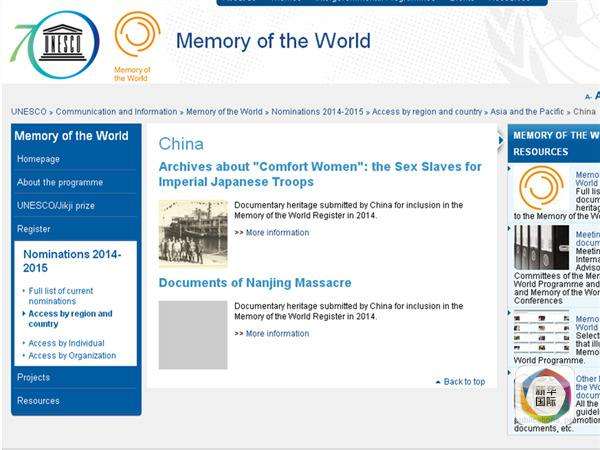 China apply to UNESCO to list documents of 1937 Nanjing Massacre and archives about "comfort women" on the Memory of the World Register. [Photo/unesco.org]
Tensions between the two Asian giants, China and Japan, are running high after the Japanese government tried to block China's application to UNESCO to list documents relating to the 1937 Nanjing Massacre and "comfort women", or the 200, 000 sex slaves taken by Japanese troops during World War II, in the Memory of the World program.
On Sunday, UNESCO's International Advisory Committee started to review 88 nominations from all over the world for the program in Abu Dhabi, the capital of the United Arab Emirates. According to a Japanese newspaper Asahi Shimbun, Japan lodged protests against two Chinese nominations through the Japanese embassy before and during the meeting.
The newspaper wrote that Japan had made amends for what happened during the war, and China ignored repeated pleas from the Japanese government, adding that Japanese Prime Minister Shinzo Abe and Foreign Minister Fumio Kishida also expressed concerns about the nomination to the UNESCO secretariat.
Meanwhile, China stresses Japan's failure to sufficiently atone for the suffering it caused during the war. To support its viewpoint, Beijing points out that several Japanese leaders still visit the Yasukuni Shrine, which honors 2.5 million Japanese war dead, including war criminals and warns repeatedly of Japan's revived militarism.
China announced that it was sending an application to UNESCO to list documents concerning the 1937 Nanjing Massacre and the suffering of "comfort women" in last June. The documents submitted to UNESCO are all first-hand materials and are divided into three categories: papers, photos and film footage, say Chinese archivists.
According to Hua Chunying, China's Foreign Ministry spokeswoman, China submitted the documents "to prevent the miserable and dark days from coming back again".
In addition to China, South Korea is also considering submitting documents about "comfort women" and forced laborers from the Korean Peninsula during the war to the Memory of the World project.