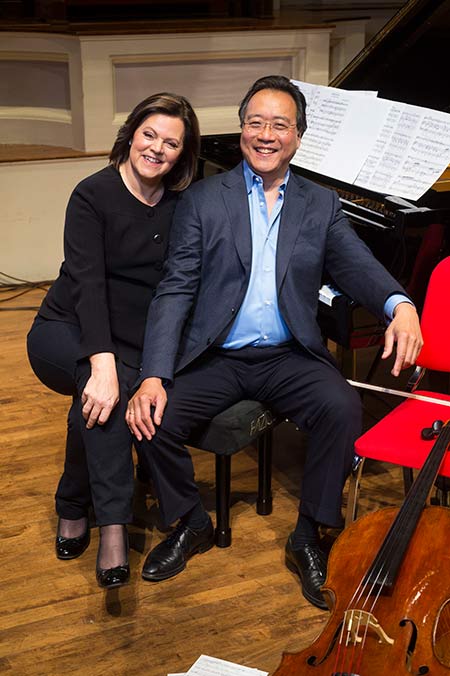 Yo-Yo Ma's latest album, Songs from the Arc of Life, celebrates a three-decade's musical partnership and longtime friendship with pianist Kathryn Stott. Provided To China Daily
Yo-Yo Ma shines a spotlight on his life with a coming-of-age album, Chen Nan reports.
In the summer of 1978, when Kathryn Stott, a student of classical piano at London's Royal College of Music, returned to her apartment after a holiday, she found a young Asian man practicing the cello inside the pad she shared with violinist Nigel Kennedy. The stranger's wife was there too.
"It seems Nigel had sublet the apartment," Stott, a British classical pianist, recalls of the six weeks she spent in the apartment with Chinese-American cellist Yo-Yo Ma and Jill Hornor, his wife.
Stott's meeting with Ma led to future collaborations in music and a lifelong friendship.
In his latest album, Songs from the Arc of Life, which was released on Sept 18, Ma has Stott playing a few of the songs.
With 19 classical music pieces, including Lullaby by Johannes Brahms, Ave Maria by Johann Sebastian Bach and Charles Gounod, and Romance for Cello and Piano by Frederick Delius, the album, Ma says, "is an invitation to our audience to remember, to imagine what the soundtracks of their lives might be".
"Kathy and I have talked for years about making an album of pieces of music we absolutely love. But we hadn't found the right format to put in," says Ma in a phone interview with China Daily from his home in Cambridge, Massachusetts, where he lives with Hornor, who teaches German literature at Harvard University, and their two children, Nicholas and Emily.
"The concept is 'Let's take an example of life'. We've pulled together an array of fabulous composers and music that we think could be an exemplar of a whole life. It doesn't necessarily have to be your life or my life. But it's somebody's life. It's stages that everybody goes through, and not necessarily in a particular order," he says.
"The album is also a celebration of our 30-year musical partnership," Stott says in an e-mail interview with the newspaper.