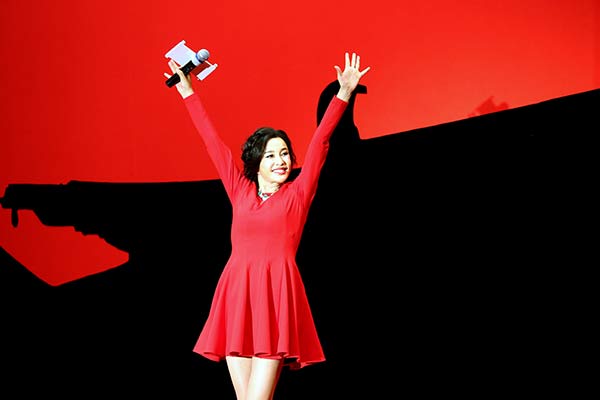 Legendary actress Liu Xiaoqing will portray the powerful female ruler Wu Zetian in a new play, and it is her fourth take on the role. [Photo by Jiang Dong / China Daily]
For the past few decades, actress Liu Xiaoqing has managed to stay in the media spotlight, owing to her longevity as one of China's most popular actresses, still playing roles much younger than her own age. And being a top-selling author and a business tycoon has also helped her fame grow. But the ride hasn't always been smooth as controversies about tax issues surrounding her suggest.
The legendary actress, 60, is now set to star in a new play, Wu Zetian, which is based on the life of Wu Zetian (AD 624-705), the country's only known female ruler during the later Tang Dynasty (AD 618-907), and the play will be staged at the Great Hall of the People in Beijing on Dec 12.
The role of queen isn't new to Liu as she has played it in the past, including in the TV shows Wu Zetian, Shadow of Empress Wu and Secret History of Empress Wu.
"I have played Empress Dowager Cixi and Wu Zetian, two most powerful women in Chinese history. Those roles are hard to surpass,"
Liu tells China Daily of her initial reluctance to play the character on stage.
But last year, when Liu toured the United States with another play Stunning Beauty, the producer Liu Zhongkui convinced her to act in the new play on Wu Zetian.
Stunning Beauty was adapted from the story of the famous Chinese courtesan Sai Jinhua, whose marital life influenced diplomatic relations with foreign countries in the late Qing Dynasty (1644-1911).
"I read the script, which is much different from the TV series I starred in with similar roles. I also liked director Chen Xinyi, who has an unique perspective on Wu Zetian," says the actress.
Although the rehearsals for Stunning Beauty were exhausting, Liu Xiaoqing says, she enjoyed preparing for the role. "I believe that Wu Zetian will give me the same experience."
Liu Xiaoqing was the only actress the show's makers thought of, according to Chen, the octogenarian female director who also wrote the script for the new play.
Chen had worked with Liu Xiaoqing in a stage play, The Last Night of Tapan Chin, touring the mainland and Taiwan from 2005 to 2008.
"I am still directing is because I want to work with people I like and direct stories I am interested in," Chen says.
With Chen, Liu Xiaoqing went to Shanxi province in northern China, where Wu Zetian was born. They also visited Qianling Mausoleum in Shaanxi province's Qian county, the burial grounds of Wu Zetian and her husband Emperor Gaozong.
"We want to reveal her spiritual world through the play," says Liu Xiaoqing of the empress.
In the upcoming play, she will play a young Wu Zetian, and the actress is aware of the difference in years between her and the character but she says much will depend on her acting abilities.
Born in Chongqing city in Southwest China, Liu Xiaoqing dominated the country's silver screen in the 1980s and '90s, winning top public-choice honors such as the Hundred-Flower Awards for years and the Golden Rooster, one of China's top movie prizes.
At the peak of her career, she left movies to open a restaurant and video-production company and became a success story, eventually making it to the Forbes' list of the "50 richest Chinese businesspersons" in 1999, when she was aged 45. Her autobiographies, My Road (1983), My Eight Years (1992) and From a Movie Star to a Billionaire (1995) are immensely popular in the country.
In 2002, she was imprisoned for more than 400 days on charges of tax evasion. A few years after she was freed, she returned to acting with stage plays and movies.
Liu Xiaoqing still impresses fans with her youthful good looks.
Two years ago, she announced her fourth marriage, to an overseas Chinese businessman, and again drew much media attention.
"All my experiences, good or bad, are treasures to me, which help me interpret different roles," she says.
"I don't have any pressure when I play a role, either for money or for an award. For me, acting is purely for fun and for the love of the roles now."