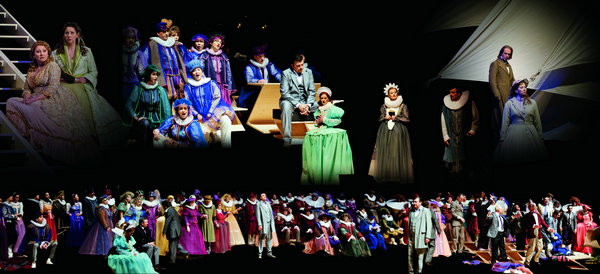 Austrian Tirol Festival Erl will bring two of Wagner's operas, The Master-Singers of Nuremberg and Tristan and Isolde, to the Beijing Music Festival on Oct 9 and 11. [Photos provided to China Daily]
No matter what soothes your soul, the classic or beyond the mainstream, come and be spoiled for choice at the Beijing Music Festival, says Chen Jie.
For music lovers, Beijing has too many choices, from high-brow classical to underground music. But if you want to watch a ping-pong game accompanied by a concerto, you'd better attend this year's Beijing Music Festival.
From Oct 8 to 24, the annual festival will present 16 concerts, two operas and some free children's concerts, master classes and salons.
The opening concert is a dialogue between the West and East. Under the baton of Yu Long, BMF's artistic director as well as China Philharmonic's music director, the orchestra will play two Chinese composers' works and two Western pieces.
Chinese composer Chen Qigang's Instants d'un Opera de Peking borrows Peking Opera's typical tunes xipi and erhuang while blending the percussion instruments of Peking Opera such as the gongs and cymbals into the Western orchestra.
Born in Shanghai in 1951 but living mostly in France since 1984, Chen is the last student of French composer Olivier Messiaen (1908-92). His works feature the rich flavor of Chinese traditional culture interpreted in a modern Western composing technique.
When Chen was young, his father sent him to learn the art of Peking Opera. Though he turned to Western classical music at 16, he never forgot the melodies and typical Peking Opera performing styles.
"Especially, when I left for Paris for further studies, I realized that Peking Opera and other traditional Chinese art forms were in my blood. They have formed my musical vocabulary," Chen says.