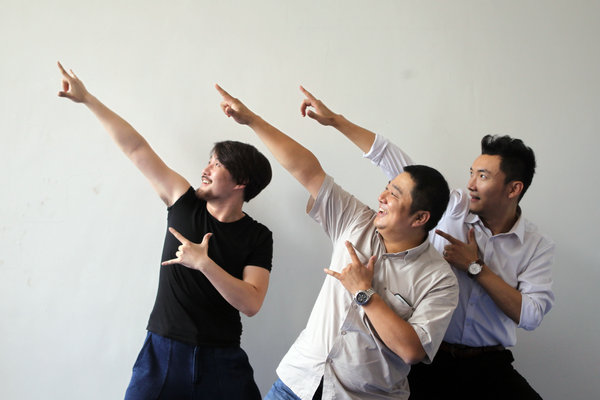 From left to right: Actor He Shan, director Zhang Yu and actor Wang Lifu work together to put Woody Allen's play Riverside Driver on the Chinese stage.[Photo by Zou Hong/China Daily]
Actor He Shan is a big fan of Woody Allen. He has what one can call a small collection of his movies, music and theater works. In 2013, He read a book, which had Chinese translations of three of Allen's one-act plays, Riverside Driver, Old Saybrook and Central Part West. As an acting major at the National Academy of Chinese Theater Arts, he was impressed by the humorous, insightful plays with typical New Yorkers as characters.
One doesn't get many a chance to watch Allen's plays on stage in China because of the language barrier and cultural differences. But He recommended the scripts to his teacher at the National Academy of Chinese Theater Arts, Zhang Yu, who enjoyed reading them and supported his idea.
One year later, Zhang, along with three of his actor students - He, Wang Lifu and Liu Qi - introduced one of the three plays, Riverside Driver, to Chinese audiences. After three rounds of performance at venues like Peking University Hall, the play, called Bin He Da Dao in Chinese, will return to the stage at Beijing Youth Theater on Oct 16 and 17.
"What attracts me most about the Allen play is that it reveals human beings' weaknesses mercilessly, such as selfishness, ugliness, timidity and shirking responsibility," says He, who plays the role of Fred Savage, a homeless man, in the play.
Savage, a copywriter, believes screenplay writer Jim Swain (played by Wang, 28, of the National Theater of China) has stolen the story of his life to develop a successful movie script and decides to blackmail him.
While stalking Swain, Savage discovers that he wants to break up with his mistress Barbara. Then comes greed for money, sexual deception and murder.
"I lived in Brooklyn for six months with my family in the United States when I was in high school and I observed the neighborhoods there," he says. "It's very interesting ... there are rich people and poor people, people of different nationalities, ethnic groups and social classes." He was born in Taiyuan, Shanxi province.
"After I became an actor, I always wanted to portray characters with distinctive cultural differences and from different social classes, such as Fred, the homeless man in the play."
Instead of trying to bridge the cultural differences by making changes to the original scripts, like adapting some American humor to Chinese situations and giving characters Chinese names, the director says, they stick to the original script and the first three rounds of performance proved that Allen's wordplay and dark humor were not lost in translation. The director added multimedia tools and designed physical language to enrich the play.
"In China's theater scene, there are many big-selling productions, which are popular because of their star-studded casts or pure comic plots. Those works evoke short bursts of laughter, earn money but leave nothing," the director says. "In Woody Allen's works, he deals with the themes of crime, punishment, love and seduction. I think his writings are autobiographical, while also reflecting other people's lives."
If you go
7:30 pm, Oct 16 and 17. Beijing Youth Theater, No 68, Nanxiao Jie (Street), Xizhimen, Xicheng district, Beijing. 400-610-3721.