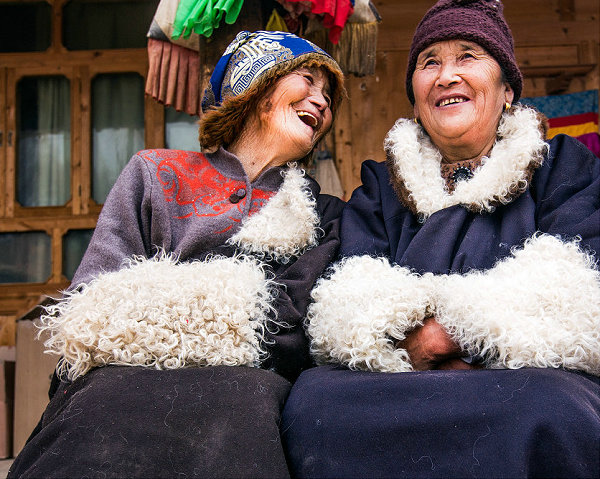 A photo titled Sisters on display at the Just Share It exhibition. [Photo by Li Dongli]
About 50 photo entries for "Just Share It - Explore Asian Arts and Culture Contest" went on display as part of the 14th Asia Arts Festival at the 1916 Art Zone in Quanzhou, Fujian province, in November.
The photos on display were selected based on a grueling selection process and tough discussions by a panel of experts as well as online votes, after the three-month contest. The event invited Internet users from all over the world to explore the beauty of Asian arts and culture in photos and videos and it attracted a series of entries and posts from across 10 countries and regions, including China, the US, Germany, Vietnam, India and South Korea.
The exhibition showcases the diversity of Asian culture from different angles, capturing images of people, performances, landscapes and crafts through the lenses of photographers from around the world and bringing a unique atmosphere to the exhibition space.
Aimed at helping visitors appreciate the dynamic Asian culture and further promote cultural exchanges between China and other Asian countries, the exhibition was organized by Chinaculture.org, the Publicity Department of the Quanzhou Municipal Committee of the Communist Party of China and the Fine Art and Design College of Quanzhou Normal University.
Here is the list of the entries on display. For more about the offline exhibition, please visit: Exhibition of photo entries displays Asian arts and culture in Quanzhou .Follow Chinaculture.org on Facebook and learn more about Chinese culture.