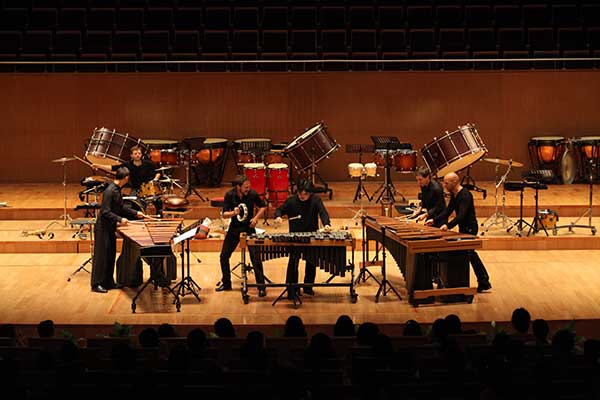 Chinese musician Li Biao with his band are entertaining Chinese audiences with their tour, From Baroque to Tango, this week.[Photo provided to China Daily]
Li Biao Percussion Band celebrates its staying power with a national tour, Chen Jie reports.
While it is easy to start a new project in China, it is usually difficult to sustain it, especially for a decade.
But percussionist Li Biao has set an example with his band. He and six fellow musicians from Germany and Denmark are celebrating Li Biao Percussion Band's 10th anniversary with a China tour, titled From Baroque to Tango, which began in Shanghai on Saturday.
According to Li, 46, percussion instruments aren't as popular in China as other classical instruments.
"People may associate them with jazz or pop. But they are a regular part of symphonic orchestra and also can be independent," he tells China Daily in Beijing during a rehearsal ahead of the tour.
Percussion instruments are referred to as "kitchen" in orchestra because of the resemblance with a cook's rack of spices.
The seven members of Li's band play dozens of instruments including standard drums, triangle, cymbals, gongs, xylophone and many unconventional instruments that aren't commonly known to people from outside the industry.
"The timpani (kettle drums), for example, provide not only rhythm but also harmonic voice," Li says.
Li started out as a xylophone player at age 5, when he lived in Nanjing, the capital of East China's Jiangsu province.
At 12, his talent and sense of rhythm convinced his teachers and parents to send him to the middle school of the Central Conservatory of Music in Beijing.
In 1988, he became the first Chinese student of percussion instruments to study abroad on government scholarship. He spent seven years at Tchaikovsky Conservatory in Moscow.
Upon graduation, Li applied for a music competition in Hungary, but by then he had already exhausted his funds. So, he sought an advance on his scholarship and left for that country.
"I felt like a gambler. If I lost the competition, I would have had only $20 for the next whole year," he says.