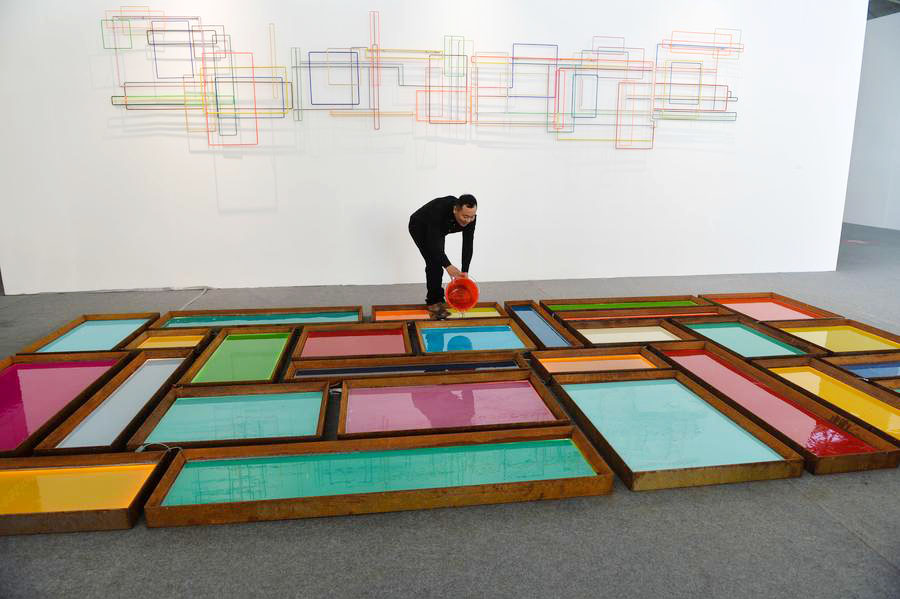 A staff member prepares the artwork Daylight and Watercolor for the upcoming 2015 Nanjing International Art Festival, in Nanjing, Jiangsu province, Sept 16, 2015. [Photo/Xinhua]
The 2015 Nanjing International Art Festival opens today, which will run through Sept 26 at the Nanjing International Exhibition Center. The festival has selected nearly 1,000 pieces of art among more than 20,000 artworks from all around the world. With the theme of A Beautiful New World, the exhibition has three themed exhibitions, an art expo and forums on art topics.
The highlight of the festival is an exhibition which puts on display 50 masterpieces from world renowned artists like Pablo Picasso, Claude Monet, and Rosenstein-Rodin. The exhibition will present four themes to the public: Pablo Picasso, landscape paintings, figure portrait, and still life. 18 pieces of art created by Pablo Picasso from 1923 to his late years, and the noted Water Lilies from Claude Monet, as well as portraits from Vincent van Gogh are on display to the public.