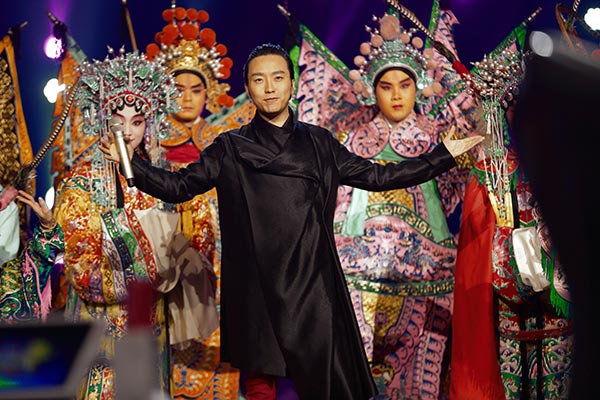 Li Yugang (center). [Photo provided to chinadaily.com.cn]
While his fans praise his copying of feminine body movements, some critics say he lacks the required formal training for Chinese opera that influence his work.
"I spent sleepless nights and worked hard to learn the art form, figure out my own style and polish my performances," Li says, adding that he has held a long-term vision of his career and not something that happened overnight.
In June, Li took a few months off and went to Taipei to practice Buddhism. The experience inspired him to write the song, Lotus, which won top honors for both the song and its lyrics at this year's China Tope Chart Awards, among the country's well-known musical prizes.
Born in a farming family in Northeast China's Jilin province, Li dropped out from a local performing arts school in 1996, unable to afford the tuition fee.
Li then left his hometown to make a living, first singing at pubs. He didn't meet with success until he substituted for a young woman singer, who was absent one night. It was a duet and Li sang both the male and female parts.
Since then, Li started doing female roles. He learned dancing and singing with professionals. His big break came in 2006, when he ended up as a top contestant on Star Boulevard, a Chinese reality TV show.