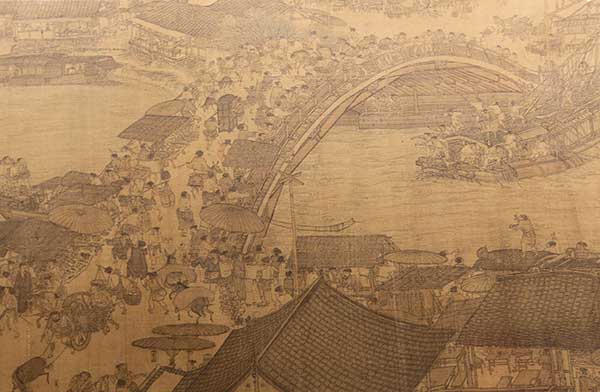 The painting Along the River During the Qingming Festival by Zhang Zeduan (1085-1145), will highlight the upcoming exhibition in Beijing's Palace Museum.[Photo by Jiang Dong/Wang Kaihao/China Daily]
When museum staff members in the Hall of Martial Valor slowly unveil the national treasures sitting in front of us, you can sense everyone in the room collectively holding their breath.
For far from being just another exhibition taking shape, what lies before our eyes are the most outstanding specimens of Chinese fine arts history imaginable.
What we reporters were lucky enough to see close up that day, the public will be able to lay their eyes on when the Precious Collection of the Stone Moat, whose catalogue includes 283 masterpieces, is unveiled in the Palace Museum, Beijing, on Sept 8. The exhibition, marking the 90th anniversary of the museum's opening, will be on display for two months thereafter.
The highlight is almost certainly the painting Along the River During the Qingming Festival by Zhang Zeduan (1085-1145) of the imperial painting academy of the Northern Song Dynasty (960-1127).
It depicts the flourishing landscape of the national capital at the time, Bianjing, now called Kaifeng, in Henan province. In the picture there are fine details of about 600 figures, 100 houses and 25 boats, and it includes the seals of nearly 100 collectors affixed to the painting down the centuries.
What makes the work's display in the coming exhibition all the more compelling is that its complete face has been veiled from public view for about 10 years.
Museum rules dictate that after Along the River During the Qingming Festival is displayed it must go into hibernation for at least three years. The last time it had a public viewing was in Japan in 2012, when the public got the chance to glimpse just part of it.
"Each exhibit is exceptional," says Zeng Jun, curator of the exhibition. "On show is the very best of emperors' possessions, and the scale is probably larger than anything the museum has put on in its long history."
The Palace Museum, also known as the Forbidden City, was China's royal palace from 1420 to 1911. It now houses 53,000 paintings and 75,000 works of calligraphy. However, space for showing them is highly limited, and with additional concerns about the safety aspects of an exhibition in the ancient surroundings, most have been locked up in warehouses for years.
The Stone Moat, known in Chinese as Shiqu Baoji, is a royal inventory complied during the reign of Qianlong (1736-96) that records about 11,000 paintings and works of calligraphy the emperor collected. He named it after the royal library of the Western Han Dynasty (202 BC-AD 24).