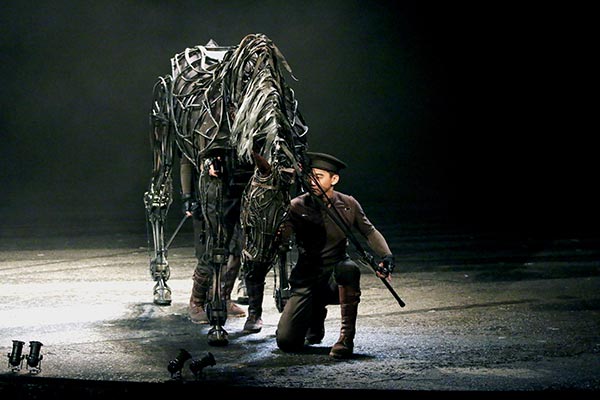 It takes three actors to manipulate the life-size horse in the play War Horse. [Photo by Jiang Dong / China Daily]
The thing about a war horse is that those who are keen to hold its reins need to be at absolute peace with one another.
Tommy Luther, a puppet show director, has long been convinced of that truth, and 16 months ago, when his mother asked him what he was looking for in casting characters for the play War Horse in China, his reply was swift.
"The puppeteers must have the ability to work well in a team, the sensibility to listen to one another, to be able to follow each other's suggestions, signals, ideas as well as to offer their own ideas, to lead sometimes."
That's all well and good, but having puppeteers who understand one another is as useful as a horse with just rear legs; they must also understand horses.
So all puppeteers performing in War Horse have the handbook titled How to Think Like a Horse. They also live on a farm for two weeks observing how horses move, breathe and think.
The play is based on a children's novel by Michael Morpurgo. It was first performed by the National Theatre of Britain at the Olivier Theatre in London in 2007 before it moved to the West End nearly two years later.