In ancient China, there was a saying: famous scenery benefits from famous writers' poetry. Now, fiction is the main form of literature and it also can make some unheralded scenic spots become popular. Let's take a glimpse at those scenic spots.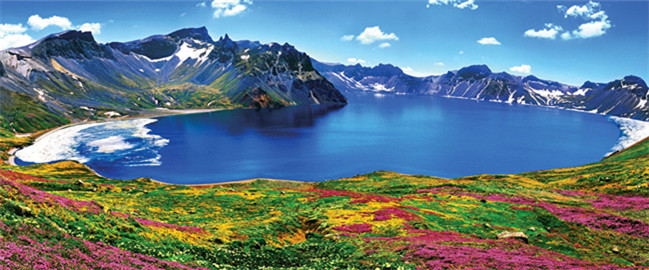 Beautiful Changbai Mountain is popular once again thanks to the popularity of the best-selling novel, The Graver Robbers' Chronicles. [File photo]
Changbai Mountain in Jilin province
Fans of The Graver Robbers' Chronicles, a best-selling suspense novel with a sales volume of 20 million through 2012, will never forget the famous date at end of the story. When Zhang Qiling, the main character, went into an ancient tomb under Changbai Mountain on August 17, 2005, he promised his friend that he would come back on the same day 10 years later.
Author Nan Pai San Shu also promised his readers that he would set an end to the whole story on the day Zhang Qiling come back. In that case, fans of the book surged to the mountain recently to "witness the miracle".
Even the author failed to stop the frenzied reactions of his fans. They've rushed to the area around the mountain since Sunday and pulled out all the stops to get accommodation. They climbed the mountain at midnight to "wait for" the main character's "return".
According to a report by Jilin media, the number of visitors increased 50 percent this summer, compared with the same period in last year. Most of them, mainly post-90s, are fans of the book.