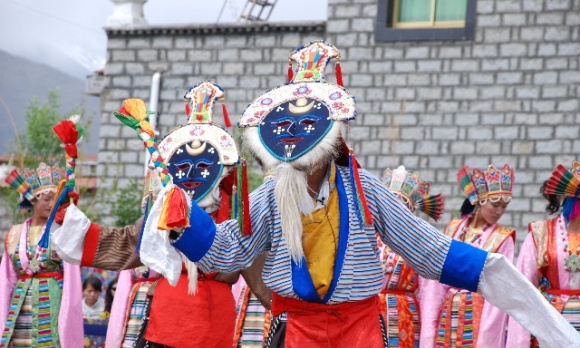 Tibetan opera was listed as a national intangible cultural heritage in 2006. [File photo]
Holding a string of Buddhist prayer beads, 80-year-old Lhasa resident Doje sits in a park crooning in a crowd gathered for a performance of famous Tibetan opera Padma Obar.
As the opera starts, the crowd falls silent in anticipation. For Doje, these moments are the heart and soul of the Shoton Festival, a week-long carnival known as the Yogurt Banquet Festival, currently underway in southwest China's Tibet Autonomous Region.
"The opera is the essence of Shoton. Without the opera, there is no festive atmosphere," said Doje.
Padma Obar is a traditional opera featuring a journey of a young man named Padma Obar, a half-man half-god figure with super powers that enable him to slay dragons.
"This year the actors are better. They sang well and their costumes are new," said Doje.
This year's Shoton began on Aug. 14 and lasts until Aug. 20. Watching Tibetan opera, visiting Buddhist exhibitions and viewing Thangkas, painted scrolls, are traditional celebrations during Shoton.
This summer, more than 200 opera singers and actors will stage performances for free at parks in Lhasa, the regional capital.
Young spectators exchange comments on performances while sharing photos of the performers through messaging app WeChat.
The Shoton Festival was originally a religious occasion during which locals offered yogurt to monks who had finished meditation retreats.
"It is an annual carnival on par with the New Year. It is also a good opportunity for young people to enjoy traditional Tibetan culture," said Losang, an employee with the Lhasa culture management bureau.
Dating back to the 14th century, the Tibetan opera epitomizes the essence of Tibetan culture, combining dances, chants and songs. Performers usually wear painted masks to identify a character.
Across Tibet, there are about one hundred Tibetan folk opera companies. It was listed as a national intangible cultural heritage in 2006.