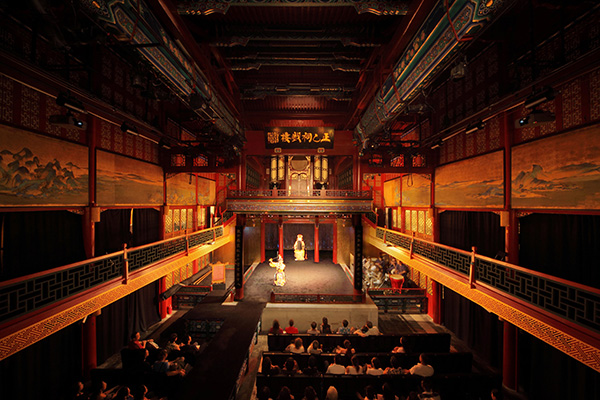 The 300-year-old Zhengyici Theater is a popular site for fans of Chinese traditional operas. [Photo/China Daily]
Cheng Yuanna took a deep breath as she walked to the stage at Zhengyici Theater, believed to be the only preserved wooden theater of its kind in Beijing with more than three centuries of history.
Cheng, 53, is the director of Beijing Little Flowers Yueju Opera Troupe, which she founded in 1997. By day she is a bank manager.
"There's no other place that would better suit the classic Yueju Opera performance, Dream of the Red Chamber," Cheng says of the environment at the theater.
In the early 1980s, she was inspired by the movie A Dream of Red Mansions, which was adapted from the classic novel of the same title and based on performances by Yueju Opera actresses Xu Yulan and Wang Wenjuan.
Since then, the Beijing native has devoted herself to this traditional Chinese opera from East China's Zhejiang province.
"The performance took me back to my younger days, when I had first read the novel and watched the movie," says Cheng, who, along with the troupe, presented the opera at Zhengyici Theater on Aug 1-2.
The theater is behind the Hepingmen Peking roast duck restaurant in downtown Beijing.
Though it looks like siheyuan, or a courtyard home, the theater, with a capacity of about 150 seats, is one of the most popular small theaters in Beijing.
Liu Xinran, its artistic director, says the performances match the ancient atmosphere of the theater. The shows are staged almost every evening, and tickets sell out quickly.
Cheng's troupe is performing as part of a season to commemorate the 300th birth anniversary of Cao Xueqin (1715-63), who wrote the novel A Dream of Red Mansions.