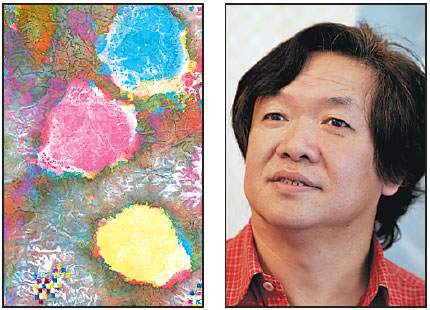 Happiness Lost, an abstract painting by Xu Dongdong (right). Photos Provided to China Daily
The Chinese artist Xu Dongdong is back with a series of new artworks.
While he was famous as a young star in China's art circle, Xu had disappeared from public life at the peak of his career, and lived a hermit-like existence for more than 10 years before his recent reemergence. But he doesn't regret it, saying the time away from media spotlight allowed him to focus more on art.
"It also helped to liberate me from limitations of the past environment and introspect about my art style and life," the 56-year-old artist says, while sipping tea at the lobby of a Beijing hotel. His sonorous voice and occasional laughter reveal his cheerful personality.
Longing to artistically reborn, Xu moved to the outskirts of Beijing and lived in seclusion since 2003, spending most of his time painting, reading and tending to his garden.
As a pioneer of abstract painting in the country, Xu has worked since the 1980s, to make Chinese paintings travel from traditional to modern forms and from regional to international appeal.
"I wanted to create something of our own times, instead of confining myself in the gardens built by our ancestors," Xu says.
He hopes to create abstract paintings featuring Chinese perceptions and reflecting society here, other than just imitating Western abstract art. Xu has also looked for abstract concepts in Chinese philosophy for inspiration and he has strived to transform them into the language of his own paintings.
"Traditionally Chinese people are not used to abstract thinking. However, there are actually a lot of abstract concepts in our culture."
"I want to find those abstract concepts and tell Chinese stories through my paintings."
During the past few years, Xu has created a series of abstract paintings, which has a distinctive style. The series express his understanding of Chinese philosophical ideas such as being and nothingness; yin and yang; movement and stillness in Taoism; as well as anitya (what is it?) and selflessness in Buddhism.
Souls of Creatures in Four Seasons, his latest series discusses the cycle and meaning of life. It it, the artist uses Chinese rice paper and traditional Chinese brush to create the works on which acrylic pigments are also applied on the moist paper.
Xu believes the series exhibits that Chinese abstract paintings have entered a relatively mature stage, which is why he is returning to public life.
Xu was born in Beijing to a family of scholars, and he showed passion for painting as a kid. He started to learn traditional Chinese painting by imitating works of ancient masters.
In 1986, a collection of his poems and paintings was published. Liu Kaiqu, the then curator of National Art Museum of China, had praised Xu as "a painter with distinctive features and great talent". The following year, a solo exhibition of his works was held at the same museum.
In the next two years, Xu was given the title of national level-one artist, and became a member of the China Artists Association, a rare distinction for a young artist in China back then.
As honors piled up, Xu went on to propose the artistic idea of "infinite universal consciousness", which means that a free and mature artistic mind can generate limitless images just like the changing universe. Over time, Xu's painting style has evolved from traditional Chinese to impressionism to abstract.
"Painting is a form of expression rather than an ultimate goal," he says.
Believing that art is a universal language, the painter has turned himself into a "diplomat and performance artist", hoping to introduce Chinese arts and culture to the whole world.
Through "Dreams of Sunshine and Harmony", a program he initiated in the late '90s, Xu donated copies of an album of his paintings to more than 1,000 leading libraries, art museums, universities and other cultural institutions throughout the world. In addition, 50 works of Xu were exhibited at the United Nations headquarters in Geneva in 2001.
"China's better integration into the world cannot be simply explained by political and economic reasons, it's also about the growth of cultural influence at its core."