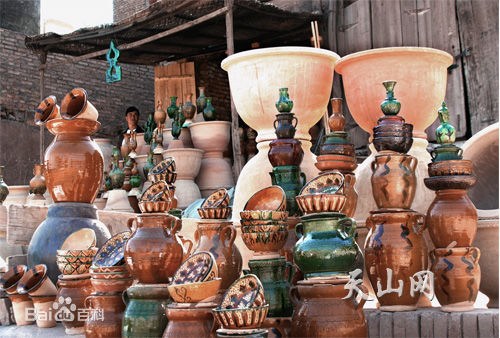 File photo of Kashgar pottery.
Anwar Ali began to learn Uygur pottery from his father when he was only seven years old. Now, at 48, he and his brother could be the final inheritors of the family business.
Like his father, grandfather and great-grandfather, he sells pottery such as bowls, cups, plates and candlesticks, made and fired in a courtyard in the old city district of Kashgar, mostly to his fellow Uygur.
A change has come over Anwar's traditional trade recently. As more people stopped buying his pottery, seduced by cheap alternatives in modern supermarkets, a business that was once a domestic craft producing essential household items has become an art form.
For Anwar, standing in a hole pedaling his potter's wheel and shaping clay for hours on end is far from a tribulation, and more a kind of serene pleasure. He generally works for five to 10 hours and makes about 20 pieces for the kiln.
Modern life has made pottery making easier, more pleasant and more efficient: Anwar likes to tune in to the local Uygur radio station when working and he can take a shower to clean off the mud after work. Unfortunately, while the benefits of modern society make his life a little easier, they do little to prevent the craft from dying out.
Anwar's Uygur pottery workshop does not fit the contemporary business model. He takes clay from the shallows of the Tuman River in front of his terraced house. Rocks used to make the colorful glaze are from the desert outside Kashgar. Even the kiln uses firewood that Anwar buys from the bazaar instead of coal. His work is not made to order, nor does he have any idea how to move his business online through platforms like Taobao or WeChat.
In his parents' time, there were dozens of potters in the community. Right now, there are only about a dozen and among them, only four are still in business, including Anwar and his brother. His son refused to take over his mantle, preferring to earn less money driving a taxi. Making pottery was "too tiring and too dirty" for his modern aspirations.
"Like making food, the machine can never replace the hand if you want a fine product," Anwar said.
Becoming a qualified potter requires an apprenticeship of three to four years, an amount of time few people are prepared to "waste."
Anwar has tried to recruit apprentices and teach them for free. In 2014, three college girls from Beijing stayed in Kashgar for three months and learned from him, but "they left before they could perfect their skills," he said.
In 2009, Kashgar began to renovate the old city, in hope of drawing more tourists. Anwar now earns some 5,000 yuan (800 U.S. dollars) each month from tourists. The government has also arranged for the brothers and other potters to teach in schools.
"I haven't thought about what to do when I am too old for this, but as long as I can move, I will keep the workshop running," he said.