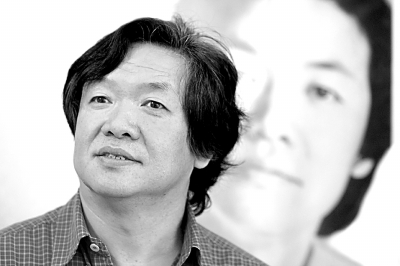 A file photo of the famous painter Xu Dongdong.
Talking with Xu Dongdong is a pleasure. His gentle voice with its authentic Beijing burr is easy on the ear. Occasionally laughing out loud, he reveals a frank and free personality.
Our topics of discussion ranged from the arts and philosophy to quantum mechanics, from traditional Oriental culture to the industrial revolution in the West, and from his early years in painting studies to the Chinese-style abstract paintings that he now creates. His personal experiences represent a reflection on life by an artist who has a wild imagination and a free spirit.
A Thinking Painter
Xu Dongdong was born to a scholarly Beijing family in 1959. His grandfather Xu Songming was the president of five universities successively. His father was a railway engineer and his mother was a doctor. In Xu's family, sons were expected to study science and engineering and daughters to take up medicine. For Xu Dongdong, however, neither subject was interesting.
"A painting of geese by prominent artist Xu Beihong and works by the renowned calligrapher Shen Yinmo hung on the walls of my room when I was a child," Xu Dongdong recalled. "I loved to lie in bed, looking at those works. Sometimes, I fell asleep whilst gazing at them."
In the 1970s, Xu became obsessed with the art museum in the Forbidden City. At first, he would go simply to view the paintings. Later, he picked up his own pen and tried to copy the ancient art works. Though no one had ever guided him, five years later, the boy was familiar with every ancient painting in the museum, and knew the painter, features, and era of the painting at a glance.
It was during this period that Xu learned to observe the world from the perspective of Chinese ancients. "Chinese painting emphasizes a kind of spirit," Xu said. "It reveals a harmonious coexistence of humankind and the world. In other words, man is an integral part of nature. Copying those paintings taught me the way our wise ancestors learned about and observed nature, and explored the complicated relationship between people and the universe." He believes that painting is a form of expression rather than an ultimate goal. How to perceive and express views on the world are far more important.
In 1986, a collection of Xu's poems and paintings was published. The book was later translated by outstanding translator Yang Xianyi (1915-2009), to be accessible to overseas readers. In addition, famous Chinese poet Nie Gannu (1903-1986) wrote a poem specifically to accompany Xu's self-portrait, drawn at the age of 16. Liu Kaiqu, former curator of the National Art Museum of China, once praised Xu in an article as "a painter with distinct characteristics and remarkable artistic talent." He continued, "His paintings of landscapes, figures, and flowers seem to be bold and unrestrained. But in fact, Xu is adept at shaping the form and structure of objectives and the entire layout. He stresses both an artistic conception and a study from nature."
Two years later, Xu Dongdong was certified as a national level artist and became the youngest member of the China Artists Association the following year. An exhibition, "Following the Steps of Xu Dongdong," co-organized by China's Ministry of Culture and the China Artists Association, ran from 1990 to 1991 and toured 10 provinces and cities in the country. It was the first of its kind directly supported by the Ministry of Culture.