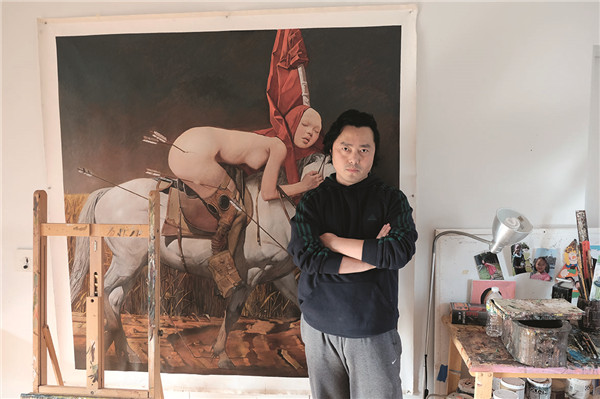 The artist poses before one of his works, Horseback Rider No 1, in his studio in New York City.  [Photo provided to China Daily]
Wei Dong is known for his stimulating, erotic images of women. But since 2010, though still painting nudity, his canvas has turned less provocative. He has also taken up shanshui (Chinese landscape painting) in search of comfort and nostalgia. He now tries to achieve a "natural, relaxed and unforced" effect that "corresponds with his own breathing". After living in New York for 15 years, the 47-year-old Chinese painter is making a comeback to the home art scene by staging two solo exhibitions.
The Adventure of Ugliness, which concluded on Sunday at Beijing's Today Art Museum, showed Wei's 20-year-long journey of evolving his own style. And an exhibition to be held on Wednesday in Hong Kong will trace the transitions in his artistic expressions before and after his move to the Big Apple in 1999.
The upcoming show to be viewed at Sotheby's gallery will display Wei's 21 ink and oil paintings.
Titled Crossroads, it is smaller in scale than the Beijing exhibition, but promises to cover the artist's varying styles through the two decades.
Wei polished his painting skills mostly not through academic training but via self-study. Fearing he'd learn little at art schools, Wei often skipped classes and instead copied works by master painters of the Ming (1368-1644) and Qing (1644-1911) dynasties. Eventually, he also discovered his obsession with the female form.
He would portray nude women in his artworks, hoping that the pieces would make people talk openly about sex-a taboo topic in Chinese society before the '90s.
His ink works back then placed women figures, either semi-naked or in flashy costumes, against the backdrop of a landscape that is painted in the tradition of shanshui. His underlying idea was to speak out against distortion of values in the pursuit of materialism.
Wei recently revisited the shanshui motif, but he communicates in a very different mood.
In his newer paintings, the landscape has become the central subject that presents a touch of primitive simplicity. Small male characters in Western-style robes also appear to merge with the beautiful settings in such works.