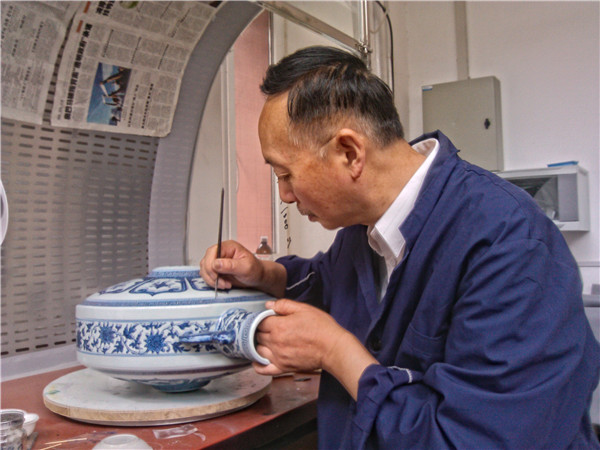 Wang Wusheng of the Palace Museum restores a porcelain utensil. [Photo provided to China Daily]
Many of the Forbidden City's mysteries may be revealed, following last week's opening of six new research departments of the academic institute under the world's most-visited museum.
These departments will explore ancient painting and calligraphy appraisal, painting techniques, porcelain, Tibetan Buddhist relics, royal court files and international relations.
Their creation heralds the completion of the institute's basic academic framework, museum director Shan Jixiang says.
The Palace Museum-aka the Forbidden City-was China's royal palace from 1420-1911.
It houses 1.8 million relics-a volume that has long left researchers pondering how to categorize them for study.
The museum's research institute was established in October 2013 and grew to 15 departments, after the six new ones were created.
"Other academic institutions and universities focus on historical files," Shan says.
"But our studies have strong bases in our tangible collections. Museum exhibitions also need solid scholarly foundations. We want to use this platform to gather the world's leading scholars for in-depth research of various fields. Our capacity alone is insufficient."
New guest researchers include China Artists Association head Liu Dawei, veteran Peking Opera performer Sun Ping and Beijing Foreign Studies University Silk Road scholar Wu Hao.
The concept is to combine the Palace Museum's independent research centers, which study such fields as painting and porcelain, into one body.
The museum will this year publish a book series about discoveries made over the past two years, the director says.
Many major projects are planned for the next five years, the research institute's head Zheng Xinmiao says.
For instance, the institute will cooperate with National Palace Museum in Taipei to simultaneously hold seminars and exhibitions across the Taiwan Straits in 2019 on five famous Song Dynasty (960-1279) porcelain kilns.
And a new edition of The Manual of the Mustard Seed Garden-one of Chinese history's most important painting-technique books, first published in the Qing Dynasty (1644-1911)-will be compiled in higher definition.
International communication, past and present, will be a lynchpin of the blueprint.
"We'll also organize exchanges with fine-art institutions overseas to expand global awareness of ancient Chinese painting methods," Zheng says.
New studies will examine foreigners' roles in China's royal courts from the Ming (1368-1644) and Qing dynasties. They include missionary Matteo Ricci, who drew China's first European-style world map, and 18th-century court painter Giuseppe Castiglione.
Their contributions to imperial China's art and science will be examined through symposiums with universities abroad.
Other analyses will examine the museum's relics.