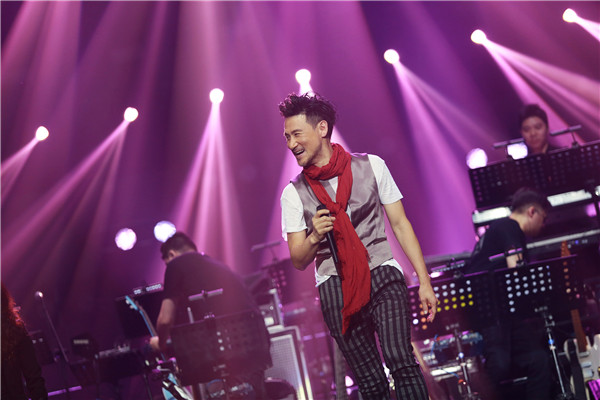 Hong Kong pop singer Jacky Cheung is among artists to have released digital albums via QQ Music, an Internet company that offers online streaming service. [Photo provided to China Daily]
Twenty years ago, two Tsinghua University graduates, Song Ke and Gao Xiaosong, founded Rye Music in Beijing, which led to the creation of what became known as "campus folk music", consisting of simple, youthful lyrics accompanied by guitar and piano. Not only that, but they also uncovered singers including Ye Bei, Lao Lang and Pu Shu, who would later become well-known pop stars. In short, Gao's and Song's contribution to China's music industry is widely credited, and the pioneering spirit they showed in those early days is once again being brought to bear, this time by Ali Music Group, a new division of the e-commerce giant Alibaba. Their mission: to revitalize the commercial side of music, which has taken a beating in recent years at the hands of technology, and in particular piracy.
Alibaba announced on July 15 that Gao, 46, a singer-songwriter and talk show host, will serve as chairman of Ali Music Group, and Song, 50, a music industry expert who worked with Warner Music and co-founded China's top performing pop music label, Taihe Rye Music, will be chief executive officer.
Before working for Ali Music Group, they had worked for about three years for Evergrande Music, where Gao was chairman and Song was chief executive officer.
Evergrande Music, a label of Evergrande Real Estate Group, one of the country's 10 largest real estate developers, was founded in Beijing a little more than two years ago. Last year, Evergrande Music owned copyright to 22,000 songs and launched the Evergrande Starlight Carnival Music Festival, which toured 100 cities across the country.
"As old warriors in China's music industry we have taken risks, achieved things along the way and survived," says Song, who after declaring "records are dead", opened a Peking duck restaurant in the capital.
"We are schoolmates, lifelong friends and business partners. We trust each other. Alibaba has powerful systems on big-data technology and online payments. We reckon the company is going to come up with a very good music service and products."