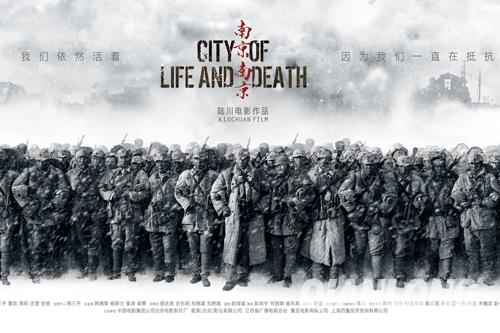 Poster of "City of Life and Death". [Photo/Agencies]
Chinese director Lu Chuan hopes that his movie "City of Life and Death" will help Japanese viewers better understand the war more than 70 years ago.
"I would like to speak for our nation with the film," he told Xinhua during an interview.
Japan's largest online video platform niconico.jp plans to show some war documentaries and movies. On the list are Chinese documentaries "Yasukuni" and "Memories of the Massacre Nanjing 1937," an adaption of Iris Chang's book, and Lu's drama "City of Life and Death."
The film, premiered in 2009 and focuses on the Nanjing Massacre in 1937.
"It is special to me," said Lu, who had attended college in Nanjing, capital of east China's Jiangsu province. "It has been my hope that Japanese people would have a chance to watch it," he said.
The director was astonished when hearing about the decision by niconico.jp. "I know it could be very difficult," he said. "We even sent copies to some Japanese official, but we were told about obstruction from right-wing groups."
"City of Life and Death" is a movie that advocates peace. "I spent three years doing research before making the film, and was awed by the cruelty of the war. It unleashed the darkness inside people's hearts."