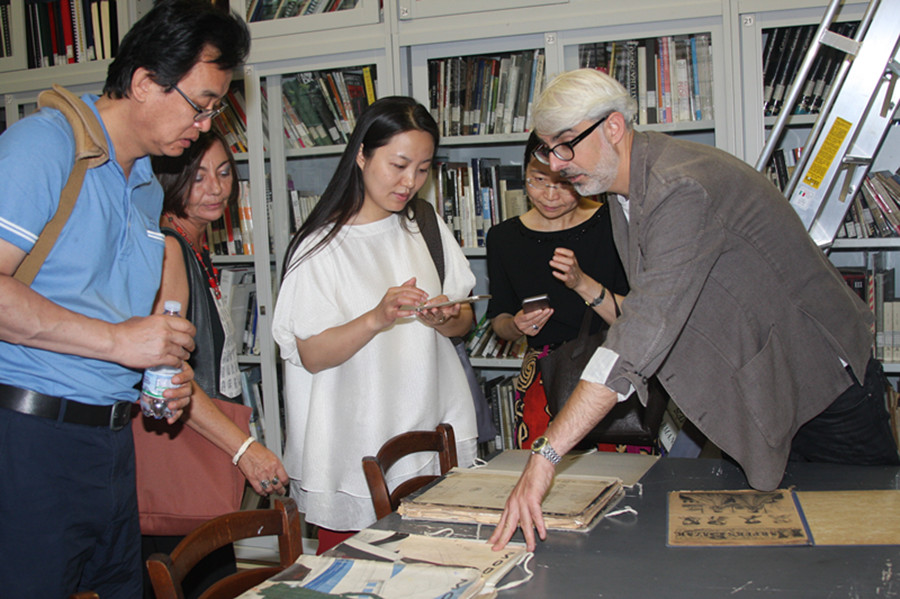 Andrea Lupo Lanzara, first right, talks to Chu Yan, the middle one, in the design office of the academy. [Photo/Chinadaily.com.cn]
Explore the Beauty of Chinese Costume, the last in a series of lectures organized by the Chinese Ministry of Culture, was held at the Italian branch of the Institute for International Education of Students in Rome.
Chu Yan, an associate professor at the Beijing Institute of Fashion Technology as well as one of the top 10 fashion designers in China, spoke at the event which was attended by China's Cultural Counselor to Italy Zhang Jianda, and around 50 teachers and students in the field of fashion design in Rome.
Before the lecture, Chu visited the design office and showroom of Accademia di Costume e di Moda, and spoke with Andrea Lupo Lanzara,general director of the academy, and students about their design works.