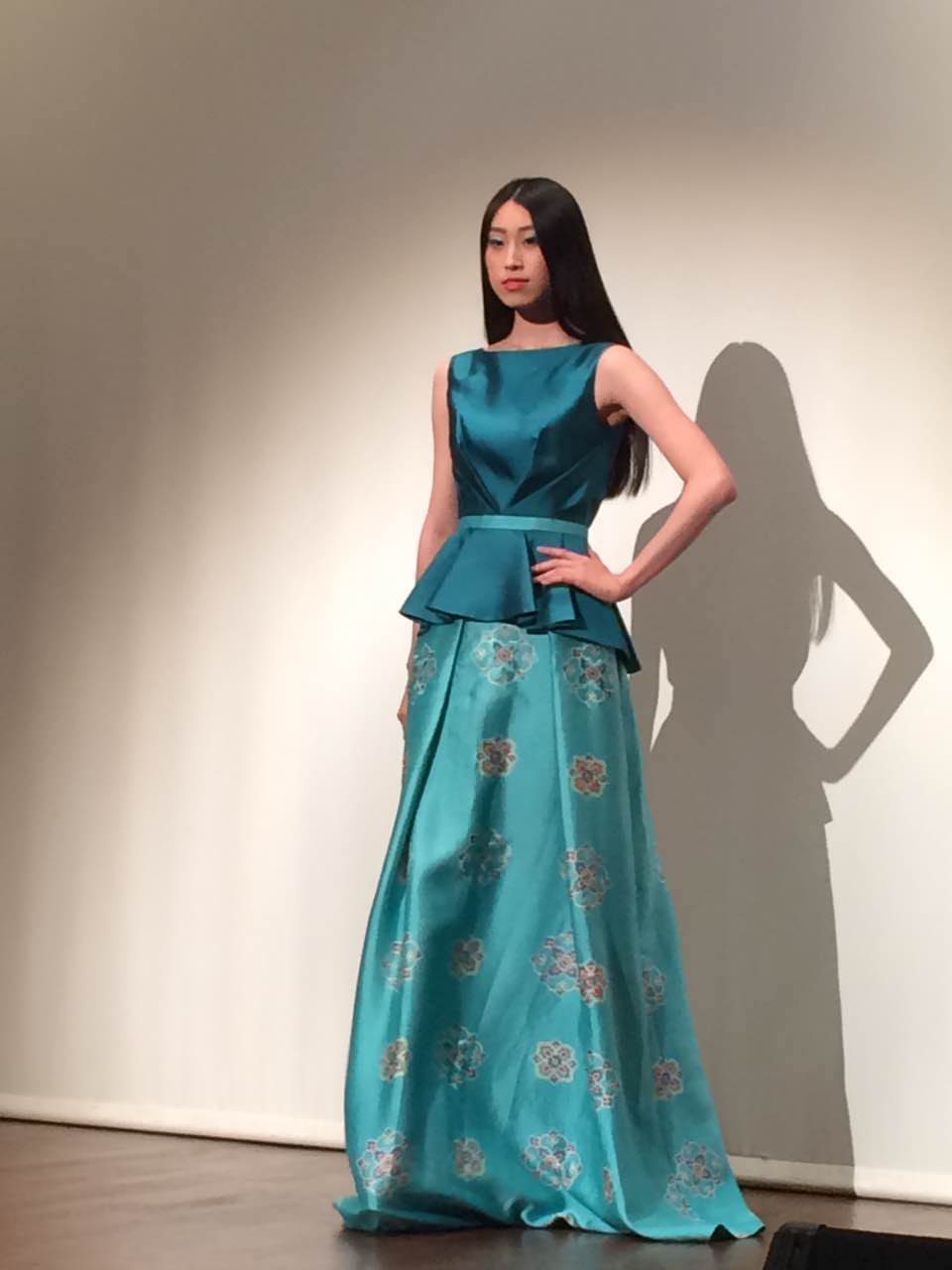 A Chinese model shows the beauty of Chinese clothes during the lecture. [Li Shaoping for Chinaculture.org]
An Exploration of the Beauty of Chinese Clothes, the first of a lecture series of Chinese Culture Talks organized by the Chinese Ministry of Culture, was held at the Culture Office of the Chinese Embassy in France, Paris, on June 12.
The speaker, Chu Yan, is an associate professor of Beijing Institute of Fashion Technology, one of the Top 10 fashion designers in China, and the designer of the outfits designed for world leaders at the APEC (The Asia-Pacific Economic Cooperation) meeting in China. She once won the gold medal in the UNESCO (United Nations Educational Scientific and Culture Organization) Youth Designer Contest.
Chu talked about the historical evolution of the function, aesthetics, and social customs of Chinese clothes, the vigorous development of Chinese fashion in modern times, and its interaction with the international clothing and fashion industry.
During the lecture, Chu showed photos of traditional Chinese clothes as well as modern designs. There was even a mini fashion show by models from both China and France. The guests enjoyed both the exquisite Chinese clothes as well as excellent and stimulating lecture.
According to Li Shaoping, the Cultural Counselor in the Chinese Embassy in France, clothes are a symbol of civilization, and reflect the history and culture of a country.
"We hope to provide a window for our guests to appreciate the beauty of Chinese clothes, and get an in-depth understanding of Chinese history and the splendid Chinese civilization through the lecture. In the future, we will hold a series of exchanges and dialogues on Chinese culture in order to strengthen the mutual understanding and communication about ideology and culture," Li said.