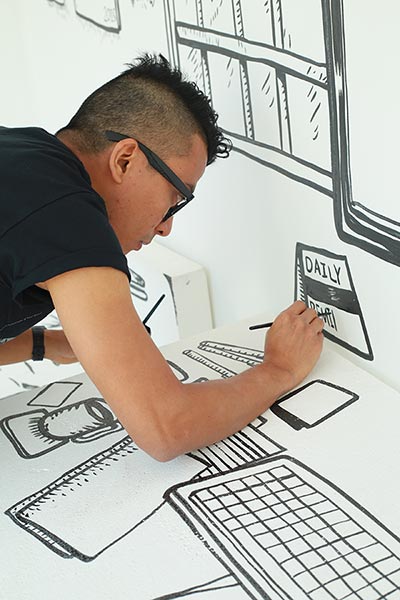 The exhibition Singapore: Inside Out, featuring a variety of creative works including paintings, installations and performances, will travel to London and New York in June, after its stop in Beijing. Photo provided to China Daily
Most people associate Singapore more with business than with art. But a touring exhibition-Singapore: Inside Out-is seeking to change that notion.
A Singapore Tourism Board initiative, the mobile show is part of a series of celebrations to mark 50 years of the city-state's independence from British control. It is also, in away, a marketing effort.
First staged in Beijing in April, the exhibition will travel to London later this month and New York in September, and will return to Singapore by the end of the year.
Some 20 creative groups and individuals are presenting their creative works, ranging from architecture to design, fashion, literature and the visual arts. Visitors are greeted by an installation created by architect Chang Yong Ter. Made of steel bars and a translucent fabric, the installation allows people to simultaneously walk "in and out".
During the show, poet Alvin Pang presents pieces of literature and events that reflect Singapore's literary scene, while visual artist Speak Cryptic re-creates his own bedroom in a white cube as an epitome of the city. Visitors are invited to add color to the cube with crayons and markers so as to leave their own mark.
Choreographer Lee Mun Wai leads a four-way collaboration with fashion designer Elyn Wong, architect Chang and audio-visual collective Syndicate on a dance performance that tries to decode the many layers of Singaporean society.
Janice Wong, a well-known chef from the island nation, creates a space covered in lollipops, gumdrop and chocolate, turning the show into a savory fair. Play-wright Joel Tan works with director Tan Kheng Hua on a live play that tells tales of Singaporean artists' lives.